Copper Mesh for Electromagnetic Shielding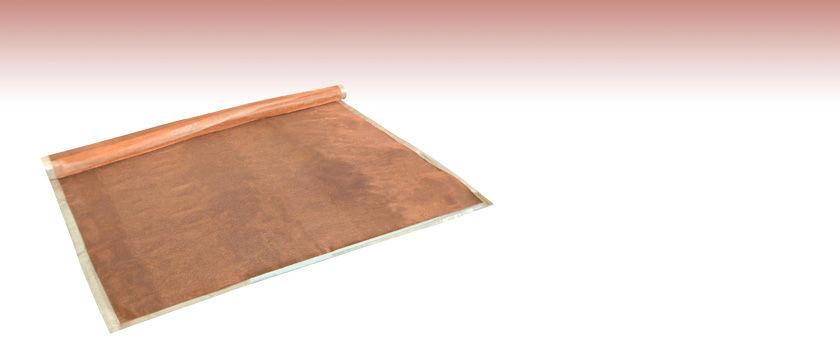 Shields from Electromagnetic Interference and Electrostatic Fields
Protect Sensitive Setups and Electronic Equipment
Easily Cut and Molded Into Shape
PSY406

Please Wait
Specifications
Typical Shielding Properties
Attenuation at 10 MHz
57 dB
Physical Properties
Wire Diameter
0.25 mm (0.01")
Mesh Width
1.22 m (48")
Roll Length
1.22 m (48")
Mesh Density
16 Strands/Inch
Features
Reduces Electromagnetic Interference from Common Laboratory Items
Build Your Own Faraday Cage
48" x 48" (1.22 m x 1.22 m) Sheet
Cut to Size with Scissors
Please Contact Tech Support for Custom Lengths/Widths
Cable Port Kit Also Available
This plain square weave copper mesh is the same mesh incorporated into our Faraday Cages. It can be used in electrophysiology and other sensitive application setups to minimize the influence of external interferences such as electrostatic fields and high-frequency electromagnetic waves (e.g., AM/FM radio waves, CRT oscilloscopes, and fluorescent strip lights).
Constructed from Ø0.25 mm (0.01") copper wire with 1.4 mm (0.06") spacing, this mesh offers excellent thermal and electrical conductivity and provides high air flow, making it ideal for use in Faraday cage construction or other RFI screening applications. It can be readily soldered, is easily bent and formed into shapes, and can be cut to the desired size with scissors.
Posted Comments:
No Comments Posted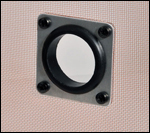 Click to Enlarge
PSY405 Cable Port Fitted to Copper Mesh Sheet.
The PSY405 cable port kit allows ports to be added to the copper mesh to simplify routing of electrical cables and optical fibers. Each kit enables the creation of one port with a clearance of Ø1.75" (Ø44.4 mm).
To install a cable port, place one plate on either side of the enclosure's copper mesh and bolt them together. Then use a sharp blade or scalpel to cut away the mesh from the center aperture. Finally, fit the included protective rubber ring to the hole. A manual with detailed instructions is included with each cable port kit.