Common Specificationsa
Backlash
<8 µm
Bidirectional Repeatability
<1.5 µm
Home Location Accuracy
<2 µm
Homing Repeatability
±1.0 µm
Vertical Load Capacity
<4.0 kg (Recommended)
4.5 kg (Max)
Horizontal Load Capacity
<7.5 kg (Recommended)
9 kg (Max)
Velocity (Max)b
2.6 mm/s
Acceleration (Max)
4 mm/s2
Motor Coil Temperature
85 °C (Max)
Limit Switch Lifetime
>100,000 Cycles
Achievable Incremental Movement (Min.)
0.05 µm
Repeatable Incremental Movement (Min.)
0.2 µm
Operating Temperature Range
41 to 104 °F
(5 to 40 °C)
Vacuum Rating
10-6 Torr
Weight
0.134 kg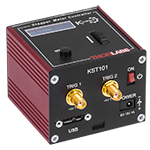 Click to Enlarge
Recommended Controller:
KDC101


Click to Enlarge
Z825BV actuator fitted to a custom, vacuum-compatible version of the
PT1
translation stage.
Features
Drop-In Replacement for Manual Actuators with 1/4"-80 Thread or
3/8" Barrels
12 VDC Servo Actuators with 6, 12, or 25 mm of Travel
Minimum Resolution of About 29 nm
Maximum Velocity of 2.3 mm/s
Limit Switches for Zero Datum and Actuator Protection
Rated Down to 10-6 Torr
These Vacuum-Compatible, Motorized Actuators provide 6 mm, 12 mm, or 25 mm of travel for use with mirror mounts and stages. With vacuum-rated servo motors, phosphorous bronze internal coupling mechanisms and mounting bushings, and high-vacuum grease (see item # GKZ8 below), these actuators can be used in environments down to 10-6 Torr.
Commercial limit switches have been added to provide overdrive protection and accurate home positioning. The incorporated motor is capable of speeds up to 2.3 mm/s. The precision of the encoder (512 counts/rev) results in a minimum resolution of about 29 nm (see the Calculations tab for more information). They offer high resolution in lightweight packages (0.134 kg), making them ideal for demanding automation applications.
The Z812BV and Z825BV actuators are designed to replace manual adjusters with 3/8" barrel fittings in stages and mirror mounts, while the Z806V and Z812V actuators can replace manual adjusters with 1/4"-80-threaded fittings. To use these actuators, simply remove the existing manual adjuster from the mount, and either clamp or thread in the vacuum-compatible actuator. To order vacuum-compatible versions of our stages and mirror mounts, please contact Technical Support.
The vacuum-compatible actuators are each shipped with a 1.6' (0.5 m) vacuum compatible flat ribbon cable with IDC connector. This cable has a 0.05" (1.27 mm) pitch, 28 AWG stranded conductors and Fluorinated Ethylene Propylene (FEP) insulation. A converter cable for use with the KDC101 controller is also supplied, but this is not vacuum compatible and should only be used outside the chamber.
The KDC101 DC Servo Controller is the ideal driver for this actuator. Please note that previous-generation TDC001 units purchased before March 2009 will require a firmware upgrade before they can be used with this motor. An upgrade is included with the latest APT software, which can be downloaded here.
Item #
Z806V
Z812BV
Z812V
Z825BV
Travel
6.0 mm
12.0 mm
25.0 mm
Absolute On-Axis Accuracy
42 µm
95 µm
130 µm
Percentage Accuracy (Max)
0.82%
0.75%
0.52%
Backlash
<8 µm
Bidirectional Repeatability
<1.5 µm
Home Location Accuracy
<2 µm
Homing Repeatability
±1.0 µm
Operating Temperature Range
41 to 104 °F (5 to 40 °C)
Vacuum Rating
10-6 Torr
Weight
0.134 kg
Limit Switch Lifetime
>100,000 Cycles
Vertical Load Capacity
<4.0 kg (Recommended)
4.5 kg (Max)
Horizontal Load Capacity
<7.5 kg (Recommended)
9 kg (Max)
Velocity (Max)a
2.6 mm/s
Acceleration (Max)
4 mm/s2
Motor Coil Temperature
85 °C
Achievable Incremental Movement (Min.)
0.05 µm
Repeatable Incremental Movement (Min.)
0.2 µm
How to Calculate the Linear Displacement per Encoder Count
For these vacuum-compatible actuators, there are 512 encoder counts per revolution of the motor. The output shaft of the motor goes into a 67:1 planetary gear head. This requires the motor to rotate 67 times to rotate the 1.0 mm pitch lead screw one revolution. The end result is the lead screw advances by 1.0 mm.
The linear displacement of the actuator per encoder count is given by
512 x 67 = 34,304 encoder counts per revolution of the lead screw,
whereas the linear displacement of the lead screw per encoder count is given by
1.0 mm / 34,304 counts = 2.9 x 10-5 mm (29 nm).
Connector Pin Out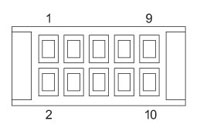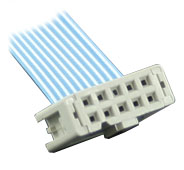 | Pin | Description | Pin | Description |
| --- | --- | --- | --- |
| 1 | Motor (+ve) (12 V) | 6 | Motor (-ve) (12 V) |
| 2 | Vcc (5 V) | 7 | Limit Ground |
| 3 | Encoder Channel A | 8 | Reverse Limit |
| 4 | Encoder Channel B | 9 | Forward Limit |
| 5 | Ground | 10 | Reserved for Future Use |