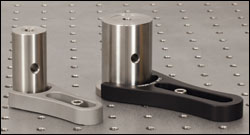 Click to Enlarge
Our Ø1" and Ø1.5" posts can be secured to an optical table using post base adapters and clamping forks.
Features
Clamping Forks Secure Pedestal-Style Mounts to the Optical Table or Breadboard
Rigid One-Piece Construction with Relief Cuts to Maximize Clamping Stability
Versions of Clamping Forks Available with Captive Screws
Polaris® Non-Bridging Clamping Arm with Flexure Clamping Mechanism
Base Adapters Convert Posts and Post Holders to Pedestal-Style Mounts
Thorlabs offers clamping forks to secure our pedestal-style Ø1/2" post holders, Ø1" post holders, Ø1" pedestal posts, Ø12 mm pedestal posts, or Mini-Series post holders to breadboards and optical tables. With slots ranging from 0.38" to 2.11" (9.5 mm to 53.5 mm) in length, each fork can swivel around the pedestal-style post holder or post to access the most convenient mounting holes on the optical table or breadboard. Thorlabs also manufactures Polaris® Non-Bridging Clamping Arms for Ø1" or Ø25 mm posts, which provide high holding force with minimal torque.
Our base adapters thread onto the bottom of our standard Ø1/2" post holders, Ø1" post extensions, or Ø1.5" posts to convert them into pedestal-style posts. The clamping forks can then be used to hold the posts or post holders in place by clamping over the base adapter.
Please note that significant overtightening of clamping forks can deform the surface of an optical table, which can cause misalignment of components. This effect is minimized with the use of Polaris Clamping Arms; see below for details.
An alternative method for securing Ø1" and Ø1.5" pedestal posts is a pair of CL8 table clamps. These compact pieces are part of our larger selection of table clamps and allow users to secure posts to breadboards and tables with limited space.