Mounting Adapters for Scan Lenses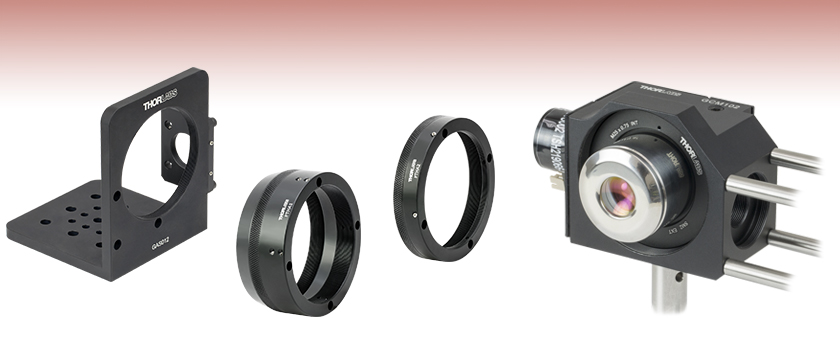 Mounting Brackets for Integrating Scan Lenses with 2D Galvo Mirror Systems
Mounting Adapters Lens Tube, Cage System, or Optical Rail Compatibility
GAS012
Galvo Mirror Mounting Bracket
FTHA1
FTHA2
F-Theta Scan Lens Adapters for 60 mm Cage Systems or
Ø3" Lens Tubes
GCM102 Galvo Mounting Adapter with Attached LSM02 Scan lens Mounted on a Ø1/2" Post

Please Wait
Posted Comments:
No Comments Posted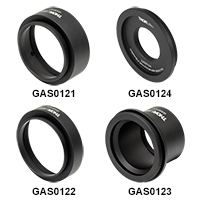 Click to Enlarge
Mounting Bracket for Integrating our F-Theta Scan Lenses and LSM05 Telecentric Scan Lens with our Large Beam Galvo Mirror Pairs
Removable 30 mm-Cage- and SM1-Thread-Compatible Input Plate
Thread Adapters Required for Attaching All Scan Lenses
Compatible with Imperial or Metric Breadboards and Optical Tables
The GAS012 Mounting Bracket allows for the integration of our FTH100-1064, FTH160-1064, FTH254-1064, or FTH160-1064-M39 F-Theta Scan Lenses or our LSM05 Telecentric Scan Lens with our galvanometer mirror pairs. It also allows the complete assembly to be integrated with optical-table- or breadboard-based optomechanical setups. To use the GAS012 mounting bracket, a thread adapter (listed in the table below) must also be purchased separately. This places the lens at the recommended distance from the second galvo mirror.
The bracket's input light port is a plate equipped with both SM1 (1.035"-40) threading and four Ø6 mm cage rod holes for Ø1" lens tube and 30 mm cage system integration, respectively. The bottom mounting surface of the GAS012 has eight #8 (M4) and nine 1/4" (M6) through holes, spaced at 12.6 mm (0.496") and 25.2 mm (0.99"), respectively, for compatibility with both imperial and metric breadboards and optical tables. When mounted, the GVS012(/M) galvo mirror pair does not sit directly on this surface, allowing all of the through holes to be used for table or breadboard mounting.
Mounting Bracket Item #
GAS012
Thread Adapter Item #
GAS0121
GAS0122
GAS0124
GAS0123
Compatible Scan Lens
FTH100-1064
FTH160-1064
FTH254-1064
FTH160-1064-M39
LSM05
Compatible Galvo Mirror System
Large Beam Diameter Dual-Axis Galvo Systems (Sold Above)
Assembled System Photo
(Click for Details)

Mount a 2D Galvo System to a Post, 30 mm Cage System, or 66 mm Rail Carriage
Internal SM05 (0.535"-40) and SM1 (1.035"-40) Threads on Input Port
Internal SM2 (2.035"-40) Threads on Output Port
Compatible with Thorlabs' Selection of Scan Lenses (See Compatibility Table Below)
Thorlabs' GCM102(/M) is designed to securely mount any dual-axis, small beam diameter galvo mirror system. Once installed in the mount, the galvo system can be attached to a post, 30 mm cage system, or 66 mm optical rail carriage, as shown in the images below.
The mount features an internally SM2-threaded (2.035"-40) output port that, when used with the proper adapter, allows any of our scan lenses to be attached at the proper scan distance from the galvo mirrors; see the compatibility table below for more details. The input port is both internally SM05- (0.535"-40) and SM1-threaded (1.035"-40) for direct compatibility with Ø1/2" and Ø1" lens tubes. Additionally, four 4-40 tapped holes centered around the input port provide compatibility with 30 mm cage systems. When each port is used in combination with our lens tubes, port plugs, and/or scan lenses, the system will be light tight. The input and output ports are centered around the X- and Y-axis galvo mirrors, respectively; please note that they are in different planes.
The bottom of the mount includes two 1/4"-20 (M6), three 8-32 (M4), and two 4-40 (M3) tapped mounting holes. Each mounting hole is aligned for compatibility with our C1511 (C1511/M) and C1545 (C1545/M) post clamp adapters; Ø1/2", Ø1", and Ø1.5" mounting posts; and XT66P2 (XT66P2/M) and XT66RC rail carriages, as shown in the images below. Please see section 3.3 of the manual for more details about the various mounting options available.
The X- and Y-axis galvo mirrors are mounted using the two through holes in the side and rear of the unit. A flexure clamp that is actuated using the included 5/64" (3 mm) hex key secures each galvo mirror in place. An SM05-threaded viewing port is provided above the mirrors to assist in installation, while two 1/4"-20 (M6) through tapped holes provide access to each flexure clamp. The SM05 port and 1/4"-20 (M6) through tapped holes, which are located on the top of the GCM102, are blocked using an SM05PL plug or a 1/4"-20 (M6) setscrew, respectively, so that the system can remain light tight. For step-by-step instructions on how to install the galvo mirror, please see section 3.1 of the manual.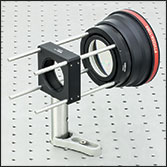 Click to Enlarge
FTH254-1064 Lens Mounted in
60 mm Cage System
Using the FTHA2 Adapter, an
LCP01T
(
LCP01T/M
) Cage Plate, and a
Ø1" Pedestal Post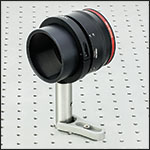 Click to Enlarge
FTH100-1064 Lens Mounted to
Ø3" Lens Tube
Using the FTHA1 Adapter, an
SM3TC
Post Mounting Adapter, and a
Ø1" Pedestal Post
These mounting adapters connect our f-theta scan lenses to our lens tube systems. The SM2A29 adapter offers external SM2 (2.035"-40) threads for mating our
FTH160-1064-M39 F-Theta Lens with an SM2 Lens Tube. The FTHA1 and FTHA2 adapters each feature four bores for Ø6 mm cage rods for integrating with 60 mm cage systems and internal SM3 threads for mounting to Ø3" lens tubes. These support methods cannot be used simultaneously due to mechanical clashing. For compatibility, please see the table below.
Note: Due to the mass of our M85 x 1.0-threaded f-theta lenses, we strongly recommend supporting the cage system or lens tube and making the lever arm between the support and the lens as short as possible. For examples, see the images to the right.
Assembly Diagrams

Click to Enlarge
FTH100-1064 Lens Mounted in FTHA1 Adapter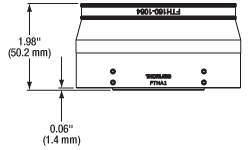 Click to Enlarge
FTH160-1064 Lens Mounted in FTHA1 Adapter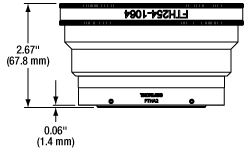 Click to Enlarge
FTH254-1064 Lens Mounted in FTHA2 Adapter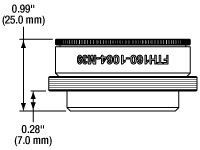 Click to Enlarge
FTH160-1064-M39 Lens Mounted in SM2A29 Adapter