Item #
PTR301
PTR302
Proof Tester Type
Linear
Rotary
Load Mechanism
1.5" (38 mm) Linear Fiber Clamp
Ø2" (50.8 mm) Rotating Mandrela
Fiber Spacing
2.9" (74 mm)
5" (127 mm)
Minimum Fiber Length
6" (150 mm)
17" (432 mm)
Maximum Load
20 N (4.5 lbs)
235 kpsi (1.6 GPa) for a Ø125 µm Fiber
89 N (20 lbs)
>800 kpsi (5.5 GPa) for a Ø125 µm Fiber
Accuracy
±2%
Ramp Rateb
Programmable, ≤22.2 N/s (5 lbs/s)
Manual, ≤22.2 N/s (5 lbs/s)
Display Units
lbs, kg, N, kpsi, and GPa
Dimensions (L × W × H)
10.14" × 5.22" × 6.37"
(257.4 mm × 132.5 mm × 161.8 mm)
10.14" × 5.30" × 7.27"
(257.4 mm × 134.6 mm × 184.5 mm)
Features
Test Fiber Strength and Durability After Fusion Splicing
Two Versions Available

Linear: Proof Testing with Loads up to 20 N (4.5 lbs)
Rotary: Proof and Tension Testing with Loads up to 89 N (20 lbs)

Fully Programmable Using Handset Controller
Alternative Controller and Replacement Test Grips Sold Separately Below
Thorlabs' Vytran® Proof Testers apply a set load to a fusion-spliced fiber at a controlled rate in order to test the spliced fiber's strength. These proof testers feature either a linear proof tester (Item # PTR301) or a rotary proof tester (Item # PTR302). The linear proof tester can perform proof tests with loads up to 20 N (4.5 lbs). The rotary tester can perform proof tests with loads up to 89 N (20 lbs), making it ideal for process qualifications that require very high proof test or tension test levels.
Each PTR301 and PTR302 Proof Tester includes a controller for programming and controling the unit. The user can select parameters such as the load, the rate at which the load is applied, and the hold time.
Proof and Tension Testing
During proof testing, the load is taken up to a predetermined level and released. Proof testing is employed in manufacturing applications to ensure the fiber can support the necessary service load. To ensure the long-term reliability of the spliced fiber, the proof test level should be about three times higher than the intended service load.
When a fiber is tension tested, the load is typically increased to the breaking point of the fiber. Tension testing sacrifies the fiber sample in order to quantitatively assess the mechanical properties of a batch of optical fiber. Because the load required to break a typical optical fiber is high, a rotary proof tester is often used for tension testing. For these reasons, tension testing is best suited for engineering and development applications.
Fiber Block Inserts and Replacement Proof Test Grips
When ordering the PTR301 Linear Proof Tester, it is also necessary to order inserts for its fiber holding blocks. These inserts cover a range of fiber coating diameters from 80 µm to 1000 µm. Custom sizes are also available; please contact Tech Support for more information.
The PTR302 Rotary Proof Tester does not use fiber holding blocks, and thus it is unnecessary to purchase any inserts for its operation. It includes one set of proof test grips; replacement proof test grips are sold separately below in packs of 10.
Handset Controller GUI Interface
The VYT300C handset controller is included with the PTR proof testers. It is also compatible with Vytran large-diameter fiber cleavers as well as Vytran PTR fiber recoaters. One handset controller can be used to configure parameters on multiple fiber processing units in succession. Full instructions for using the handset controller can be found in the manual. The screenshots below highlight key features of the graphical user interface.
Thorlabs Vytran USA
Morganville, New Jersey, USA
1400 Campus Dr
Morganville, NJ 07751
USA
Appointment Scheduling and Customer Support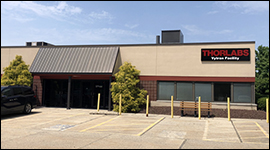 Click to Enlarge

Product Demonstrations
Thorlabs has demonstration facilitates for the Vytran® fiber glass processing systems offered on this page within our Morganville, New Jersey office. We invite you to schedule a visit to see these products in operation and to discuss the various options with a fiber processing specialist. Please schedule a demonstration by contacting technical support. We welcome the opportunity for personal interaction during your visit!
The table below outlines the entire PTR series to directly compare the capabilities across the whole line.
Vytran® PTR Series Recoater and Proof Tester Selection Guide
Item #
UV Curing Source
Mold Assembly
Proof Tester
Recoat Injection Pump
Max Recoat Length
Recoat Material
Mold Cleaning Requirement
High Index
(Item # AB950200)
Low Index
(Item # PC373)
Dedicated Proof Testers
PTR301
N/A
N/A
Linear
N/A
N/A
-
-
N/A
PTR302
Rotary
-
-
Dedicated Recoatersa
PTR303
Halogen Lamps
Manual
N/A
Automatic
50 mm
-
After Every Recoat Process
PTR303B
Manual
50 mm
PTR403
LEDs
Manual
N/A
Automatic
50 mm
-
After Every Recoat Process
PTR403B
Manual
50 mm
PTR404B
Manual
100 mm
PTR304
Halogen Lamps
Manual
N/A
Automatic
100 mm
-
After Every Recoat Process
PTR304B
Manual
100 mm
PTR305
LEDs
Automatic
N/A
Automatic
50 mm
-
Dailyb
Recoaters with Proof Testersa
PTR306
Halogen Lamps
Manual
Linear
Automatic
50 mm
-
After Every Recoat Process
PTR306B
Manual
50 mm
PTR406
LEDs
Manual
Linear
Automatic
50 mm
-
After Every Recoat Process
PTR406B
Manual
50 mm
PTR307
Halogen Lamps
Manual
Rotary
Automatic
50 mm
-
After Every Recoat Process
PTR307B
Manual
50 mm
PTR407
LEDs
Manual
Rotary
Automatic
50 mm
-
After Every Recoat Process
PTR407B
Manual
50 mm
PTR308
LEDs
Automatic
Linear
Automatic
50 mm
-
Dailyb