See what's new at Thorlabs:
View the full list of new products (below) or browse our entire product range.
All of these items are available now!

Choose

RSS Feed to have this information delivered to you.

3 New Products in the 30 mm Cage System Optic Mounts Family!
«« View All New Products
«« View ByCategory
Thorlabs offers many types of optic mounts compatible with the 30 mm Cage System, including X, Y, and Z translation mounts, rotation mounts, gimbal mounts, and kinematic mounts. We also offer platform mounts, filter mounts, U-bench mounts, and a cuvette holder.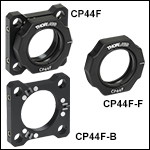 30 mm Cage Plate with Quick-Release Magnetic Plate (View Product Family)
3 New Products!

CP44F-B- 30 mm Removable Cage Plate, Back Plate with ER Rod Holes, Internal SM1 Threading RELEASED: November 12, 2019


CP44F-F- 30 mm Removable Cage Plate, Removable Front Plate, Internal SM1 Threading RELEASED: November 12, 2019


CP44F- 30 mm Removable Cage Plate, Front and Back Plate, Internal SM1 Threading RELEASED: November 12, 2019