See what's new at Thorlabs:
View the full list of new products (below) or browse our entire product range.
All of these items are available now!

Choose

RSS Feed to have this information delivered to you.

5 New Products in the Multimode Fiber Optic Connectors Family!
«« View All New Products
«« View ByCategory
Thorlabs stocks an extensive selection of multimode fiber optic connectors, available for immediate shipping. Choose from FC/PC, FC/APC, SMA905, LC, and SC style connectors with stainless steel, ceramic, or plastic ferrules. We also offer individual ceramic ferrules.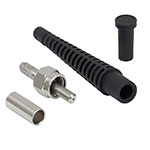 Hex Nut SMA905 Stainless Steel Ferrule Connectors (View Product Family)
5 New Products!

11580H- Hex Nut SMA905 Multimode Connector, Ø1580 µm Bore, SS Ferrule RELEASED: November 27, 2019


10640H- Hex Nut SMA905 Multimode Connector, Ø641 µm Bore, SS Ferrule RELEASED: November 27, 2019


10440H- Hex Nut SMA905 Multimode Connector, Ø440 µm Bore, SS Ferrule RELEASED: November 27, 2019


10230H- Hex Nut SMA905 Multimode Connector, Ø231 µm Bore, SS Ferrule RELEASED: November 27, 2019


10125H- Hex Nut SMA905 Multimode Connector, Ø128 µm Bore, SS Ferrule RELEASED: November 27, 2019