Click to Enlarge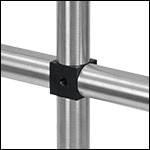 Click to Enlarge
The cubes on this page can be used to link our
Ø1" Pillar Posts
(left) or the bottom of our
Ø1/2" Optical Posts
(right).
Features
The RM1G, RM1S, and RM1F(/M) Construction Cubes aid in building rigid 3D structures from our optomechanical components. They are machined from a single block of aluminum, providing excellent rigidity, and their faces are parallel and perpendicular to within 0.002" (0.05 mm).
The RM1G and RM1S cubes each feature three 1/4" (M6) counterbores on adjacent faces, and the RM1S cube is slotted to accept hardboard walls for the construction of light-tight optical enclosures. Our low-profile channel screws are required in order to fasten optomechanics to the adjacent faces of these construction cubes. These low-profile screws feature a shortened cap height relative to standard cap screws.
The RM1F(/M) cube contains a centered 1/4"-20 (M6 x 1.0) tapped hole on all six sides. This cube is compatible with our Ø1" Pillar Posts with 1/4"-20 (M6 x 1.0) taps via 1/4"-20 (M6 x 1.0) setscrews. These setscrews also facilitate connections to the bottom end of Ø1/2" posts. By using a screw thread adapter, these cubes can be attached to Ø1" pillar posts with 8-32 (M4 x 0.7) threading or the top end of Ø1/2" posts.