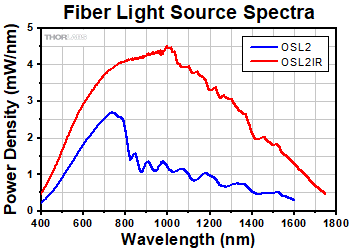 Click to Enlarge
Click to Download Raw Data
These spectra represent the output of the OSL2B bulb installed in the OSL2 light source (blue line) and the OSL2BIR bulb installed in the OSL2IR light source (red line). The OSL2B bulb has an integrated hot mirror to block most IR light. The OSL2BIR bulb has an aluminum-coated reflector for enhanced performance in the infrared. These spectra are taken with the included fiber bundle and the attenuation within the fiber bundle is accounted for.
Features
High-Output 150 W Bulbs with 3200 K Color Temperature

OSL2 Comes with Pre-Installed OSL2B Bulb with Integrated Hot Mirror to Block Most IR Light
OSL2IR Comes with Pre-Installed OSL2BIR Bulb with Aluminum-Coated Reflector for Enhanced IR Performance

DC-Coupled Illuminators for Stable, Consistent Light Output
Variable Intensity Control via Front Panel Knob (0% to 100%)
Rugged Design with Thermal Safety Cutoff
91 cm (36") Long, Ø6.4 mm (Ø0.25") Core Fiber Bundle Included
Internally SM1-Threaded (1.035"-40) Output Port
Thorlabs' OSL2 and OSL2IR High-Intensity Fiber Light Sources deliver white light for brightfield microscopy, laboratory, and illumination applications. The output illumination intensity is exponentially variable from 0 to 100% using a knob on the front of the unit. The 150 W EKE halogen bulbs have a 3200 K color temperature (see the graph to the right) and are user replaceable with optional bulbs sold below. These portable fiber-coupled light sources are compatible with 100 to 120 VAC as well as 220 to 240 VAC and includes a location-specific power cord.

Click to Enlarge
OSL2 Fiber Bundle Tip Post-Mounted Using
AD8F
Mounting Adapter and
LMR1
Fixed Mount
A 91 cm (36") long fiber bundle with a Ø6.4 mm (Ø0.25") effective core is included with the OSL2 and OSL2IR light sources. To adapt the fiber bundle output to an optomechanical setup, we recommend using our AD8F mounting adapter (see photo to the left), which provides external SM1 (1.035"-40) threading for easy integration with any of our SM1-threaded components. In particular, this adapter can be used to connect the OSL2 or OSL2IR to a Cerna® microscope for both epi-illumination and trans-illumination; see the Use with Cerna tab for details.
The fiber illuminator's output port also has internal, 3.5 mm deep SM1 threads. The unit is shipped with a fiber bundle adapter installed in these threads. By removing the fiber bundle mounting adapter from the output port, standard fiber connector adapters (sold below) and other SM1-threaded components can be attached to the light source.
Accessories
We offer collimation and focusing packages for the end of the fiber bundle, single-output fiber bundles, a bifurcated fiber Y-bundle with two goosenecked legs, and a microscope ring illuminator. The single-output fiber bundles are available in two varieties: a metal-jacketed replacement bundle for the included bundle and a gooseneck bundle for increased rigidity and easy manual positioning. Longer length fiber bundles are also available as a custom order by contacting Tech Support.
Four replacement bulbs for use with our high-intensity fiber light sources are available below, along with their emission spectra. The OSL2B and OSL1B bulbs are identical to the bulbs used in the OSL2 and the former OSL1 light sources, respectively, and emit in the visible spectrum. The OSL2B2 bulb also emits in the visible spectrum and provides greater power output at the expense of bulb lifetime. Lastly, the OSL2BIR bulb is used in the OSL2IR light source and offers enhanced emission in the near infrared through the use of an aluminum-coated reflector. Further details on compatible bulbs are also provided on the Specs tab.
If a higher color temperature is desired, our color-balancing filters can be used to attenuate red light from the OSL2 light source while passing blue light. This results in a beam with a higher color temperature and lower total power.
Item #
OSL2a
OSL2IRa
Light Source Specs
Power at Fiber Tip
1.4 W at Maximum Bulb Intensity
3.8 W at Maximum Bulb Intensity
Color Temperature of Included Bulb
3200 K at Maximum Bulb Intensity
Operating Wavelength Range
400 - 1600 nm (Typical)
400 - 1750 nm (Typical)
Color Rendering Index (CRI)
90%
Intensity Adjustment Range
0 to 100%
Time to Full Brightness
4 s Typical, 7 s Maximum
Output Power Stability
±0.5% over 8 Hours
±0.8% over 8 Hours
Lamp Lifetime
1000 Hours to 50% Brightness
200 Hours to 50% Brightness
Included Bulbb
OSL2B (150 W, 3200 K, EKE/10H)
OSL2BIR (150 W, 3200 K,
Enhanced IR, EKE/AL)
Other Compatible Bulb Typesb
OSL2B2 (150 W, 3400 K, EJV)
OSL2BIR (150 W, 3200 K,
Enhanced IR, EKE/AL)
OSL1B (150 W, 3250 K, EKE)
OSL2B (150 W, 3200 K, EKE/10H)
OSL2B2 (150 W, 3400 K, EJV)
OSL1B (150 W, 3250 K, EKE)
Input Voltage
100 - 120 VAC, 50/60 Hz
200 - 240 VAC, 50/60 Hz
Power Consumption
200 W at Maximum Bulb Intensity
Fuse Type
3 A, 250 V, 5 x 20 mm
Operating Temperaturec
-20 to 40 °C (-4 to 104 °F)
Humidity Range
0 - 80%, Non-Condensing
Weight
2.9 lbs (1.3 kg)
Fiber Bundle Specs
Fiber Bundle Lengthd
91 cm (36")
Fiber Bundle NA
0.57
Fiber Bundle Effective Core Diameter
Ø6.4 mm (Ø0.25")
Operating Wavelength Rangee
390 - 1750 nm
Fiber Bundle Attenuation
<0.6 dB/m at 940 nm
Number of Fibers
6718 (Calculated)
Fiber Core Diameterf
50 µm
Fiber Cladding Diameterf
52.5 µm
Bundle Minimum Bend Radius
100 mm
Operating Temperaturec
0 to 180 °C (32 to 356 °F)
Click to Download Raw Data
The typical long-term and short-term output intensity stability of the OSL2 and OSL2IR are shown above.
Components for Cerna® Compatibility
Epi-Illumination
WFA2001 Epi-Illuminator Module
AD8F Ø8 mm to SM1 (1.035"-40) Adapter
Trans-Illumination
WFA1000 Trans-Illumination Module or
WFA1100 Dodt Gradient Contrast Module
AD8F Ø8 mm to SM1 Adapter
CP33(/M) SM1-Threaded 30 mm Cage Plate
(Qty. 2)
LA1134 or LA1134-A Ø1" Plano-Convex Lensa
(f = 60.0 mm)
ER3-P4 3" Cage Rods
Using the Broadband Halogen Lamp in Cerna® Microscope Systems
The OSL2 high-intensity light source provides effective broad-spectrum illumination for brightfield and reflected light microscopy. It can be used in both epi-illumination and trans-illumination configurations within the Cerna microscopy platform.
Installation on Epi-Illuminator Module
The OSL2 is compatible with a Cerna microscope via the single-cube epi-illuminator module (Item # WFA2001), which contains anti-reflective (AR)-coated optics with <0.5% average reflectance per surface over the 350 - 700 nm wavelength range. The halogen lamp fiber bundle and epi-illuminator module are connected together by an SM1-threaded (1.035"-40) adapter (Item # AD8F). First thread the adapter onto the epi-illuminator module, then secure the fiber bundle with the nylon-tipped setscrews on the adapter [1/16" (1.5 mm) hex]. The epi-illuminator module accepts an uncollimated light source, so no collimation package is necessary.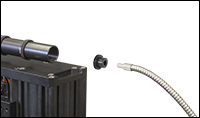 Click to Enlarge
Thread the AD8F adapter into the WFA2001 epi-illuminator module.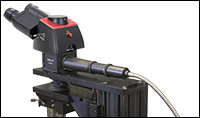 Click to Enlarge
Secure the fiber bundle with setscrews on the AD8F (1/16" [1.5 mm] hex).

Installation on Trans-Illumination Module
Because the WFA1000 and WFA1100 trans-illumination modules need a Ø1" collimated light source secured to a 30 mm cage system to provide even illumination, the emitted beam from the OSL2 must be collimated by a plano-convex lens with a focal length of 60.0 mm. We recommend using either the LA1134 or LA1134-A N-BK7 plano-convex lens. The LA1134 lens is uncoated and will provide relatively even transmission of the entire OSL2 spectrum; the LA1134-A features an AR coating that provides improved transmission in the 350 - 700 nm range but worse transmission above 700 nm. See the Coatings Tutorial for details. A slightly longer focal length lens can be substituted, but will result in dimmer illumination at the sample plane.
To assemble the cage system for the OSL2, first mount the lens onto a SM1 (1.035"-40) threaded 30 mm cage plate (Item # CP33(/M)) using the included retaining rings (Item # SM1RR). The other cage plate secures the Ø8 mm to SM1 adapter (Item # AD8F); utilize an additional retaining ring to set the adapter at a particular position. Attach the cage rods (Item # ER3-P4) to the trans-illumination module by removing the dust cover on the side of the module with a 1.5 mm hex, then locking the cage rods into place using the exposed side-locking 4-40 setscrews (0.05" hex). Once the cage rods are secure, slide the cage plate with the optic onto the rods so that the convex side of the lens faces the trans-illumination module. This is then followed by the cage plate with the AD8F adapter. The cage plates are secured to the cage rods using side-locking 4-40 setscrews. Once the assembly is secure, mount the tip of the fiber bundle onto the end of the collimation package using two 6-32 setscrews [1/16" (1.5 mm) hex]. See the diagram and images below for a visual depiction of this assembly.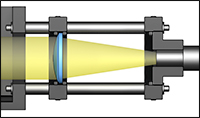 Click to Enlarge
Collimating the OSL2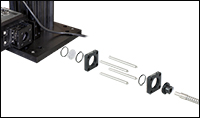 Click to Enlarge
Cage System Components Necessary for Collimation
Click to Enlarge
Secure the cage assembly using the side-locking 4-40 setscrews on the trans-illumination module.
The cage plates should be separated such that the distance between the fiber tip and the plano side of the lens is 2.23" (56.7 mm), the back focal length of the lens. The cage system provides easy adjustment of the distance between the cage plates while maintaining alignment. Please contact Technical Support if you need further assistance with this installation.