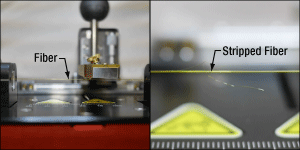 Click to Enlarge

Blade Mechanism Positioned Above the Fiber (Left);
Stripped Fiber (Right)

Click to Enlarge

Stripped polyimide coating on Ø120 µm cladding and Ø150 µm coating fibers. A clean, beveled edge, as shown in the images above, is desireable for minimizing recoating defects after splicing.
Features
Accepts Fibers with Coating Diameters of 100 µm - 250 µm, 400 µm, or 500 µm
Accepts Fiber with Cladding Diameters from 80 µm to 400 µm
Mechanical Stripper with Manual Rotation
Strip a 1 mm - 50 mm Long Window of Polyimide-Coated Fiber
Fiber Holder Insert Sets:

VHW250: Accepts Ø100 µm - Ø250 µm Fiber
VHW400: Accepts Ø400 µm Fiber
VHW500: Accepts Ø500 µm Fiber

Replacement Blades Available in Packs of 100
Thorlabs' Vytran® FWS100 Fiber Window Stripper is designed for stripping polyimide-coated optical fiber. Polyimide coatings have high temperature and chemical resistance, and are therefore difficult to remove without leaving a residue or damaging the fiber. Unlike the typical chemical stripping method, which uses hot sulfuric acid, this window stripper provides a clean and safe solution for stripping polyimide-coated fiber by using a mechanical blade (replacements sold below) and repeated stripping passes to gently remove the coating. Rotation barrels on either end of the stripper are used to hold an optical fiber under tension. The FWS100 stripper can strip a 1 mm to 50 mm long window region, and accepts fiber with cladding diameters from 80 µm to 400 µm and coating diameters of 100 µm to 250 µm, 400 µm, or 500 µm. After stripping, we recommend using an ultrasonic cleaner that is compatible with window stripped fiber to clean.
Each rotation barrel requires a bottom insert, top insert, rear guide, and front guide to properly hold a fiber in place during the stripping process. The inserts grip the fiber in place, while the guides assist with loading fiber and keeping the fiber close to the center of rotation. The FWS100 window stripper includes two top inserts and two rear guides that are pre-installed. These are compatible with all fiber sizes and should not be removed by the user. In addition, users will need to purchase and install one fiber holder insert set (sold separately below), containing two bottom inserts and two front guides. We offer three insert sets for Ø100 µm to Ø250 µm, Ø400 µm, or Ø500 µm coated fiber.
FWS100 Window Stripper Specifications
Accepted Fiber Material
Silica
Accepted Coating Material
Polyimide
Accepted Cladding Diameters
80 µm - 400 µm
Accepted Coating Diameters
100 µm - 250 µm, 400 µm, 500 µma
Strip Length
1 mm - 50 mm
Strip Method
Multiple Pass with Manual Rotation
Strip Blade
Single-Edge Precision Blade with
Power Assist Advance
Blade Lifetime
100 - 200 Strips per Blade
Fiber Rotation
Manual Rotation with
20 Detent Positions at 18° Apart
Electrical Power
12 VDC Input;
100 - 240 VAC AC Adapter Included
Dimensions (L x W x H)

10.78" x 5.06" x 6.19"
(273.7 mm x 128.5 mm x 157.3 mm)
Weight
2.2 kg
Operating Conditions
0 °C to 40 °C
0% - 85% RH (Non-Condensing)
Storage Conditions
-40 °C to 80 °C
0% - 95% RH (Non-Condensing)