Item #
CCS100
CCS175
CCS200
Wavelength Range
350 - 700 nma
500 - 1000 nm
200 - 1000 nma,b
FWHM Spectral Accuracy
<0.5 nm
@ 435 nm
<0.6 nm
@ 633 nm
<2 nm
@ 633 nm
S/N Ratio
≤2000:1
CCD Sensitivity
160 V / (lx · s)
Integration Time
10 μs - 60 s
Spectrometer Features
Models for the Visible, NIR, or UV to NIR Spectral Ranges
Rugged Czerny-Turner Spectrometer Design with No Moving Parts
Auto Compensation for Dark Current Noise
Amplitude Corrected and Shipped with Calibration Report
High-Speed USB Connection Allows up to 200 Scans per Second
Trigger Input for External Synchronization (TTL)
16-Bit A/D-Converter
3648 Pixel CCD Line Array
Includes Multimode Fiber Patch Cable
Cosine Correctors Available Separately Allow Free-Space Input
Round-to-Linear Fiber Bundles Optimized for Spectrometer Use Available Separately Below
Thorlabs' fiber-based, compact, Czerny-Turner CCD spectrometers are available in three models. Two are sub-nanometer accuracy models that provide detection in the 350 - 700 nm or 500 - 1000 nm range. A third model offers a wide 200 - 1000 nm spectral range with better than 2 nm accuracy. With a footprint that measures roughly the size of a portable hard drive (122 mm x 79 mm x 29.5 mm), the performance of these CCD spectrometers is ideal for educational applications or fiber-based systems. Each unit comes amplitude corrected and is shipped with a calibration report.
Although small, the unit shares features with larger, more expensive spectrometers such as the ability to be synchronized via a TTL trigger input (up to 100 Hz) and to automatically compensate for noise created by dark current. The three models share the same design with the CCD chips, gratings, and lenses being optimized for the specified wavelength range.
Each spectrometer ships with a software CD-ROM, an SMB-to-BNC adapter cable for external trigger signals, a 1.5 m high-speed USB cable, and a fiber optic patch cable with SMA905 connectors. The CCS100 and CCS175 include our M14L01 patch cable, which is 1 m long and has a Ø50 µm core, while the CCS200 includes a 1 m long patch cable built with our FG200UCC optical fiber, which has a Ø200 µm core. Each spectrometer is factory calibrated with the included patch cable prior to shipment. Note that the spectrometers cannot be amplitude corrected below 380 nm. Thorlabs recommends recalibrating these spectrometers every 24 months and offers a factory recalibration service. Please contact Tech Support for details.
Note: A glass window in front of the CCD causes etalon effects which vary from unit to unit. If you require more information to determine if these spectrometers are suitable for your application, please contact Tech Support.
Mounting Options
For ease and stability of mounting, our compact CCD spectrometers are each equipped with two bottom-located taps separated by 1" (25.4 mm). The imperial versions feature 1/4"-20 taps, while the metric versions are equipped with M6 taps.
Software Package for the CCD Spectrometers
The spectrometer comes with a software package that has a graphical user interface (GUI) and an extensive set of drivers (C/C++, LabWindows/CVI, Dot NET, NI LabVIEWa, and Visual Basic). The GUI can display the spectra, background, and peaks in a single window if desired. Additionally, diverse algorithms can be applied for smoothing, averaging, or calculating absorption and transmission. The measurement results can be compared with other stored profiles. The included drivers allow for complete functional control of the Czerny-Turner Spectrometers featured here, allowing the user to design his or her own interface software or to integrate the unit with a test and measurement setup for automated testing. Please see the User Interface tab for more details. The link to download the software can be found on the Software tab. This software package is also designed to operate our optical spectrum analyzers.
Cosine Correctors
Thorlabs cosine correctors (available below) are designed to mate with either an SMA connectorized fiber or the input port of our CCD spectrometer. They feature diffusers at the input apertures and allow the spectrometers to be used for free-space measurements.
Fiber Bundles
In addition to the SMA to SMA cable included with each spectrometer (detailed above), Thorlabs offers linear-to-round fiber bundles, which are sold below. These bundles are optimized for use with spectrometers and have a linear fiber array on the spectrometer side of the cable, which matches the geometry of the spectrometer slit. This provides higher signal levels in the spectrometer. Please note that while these bundles increase signal strength, a single small-core fiber should be used to maintain full spectral precision of the high-accuracy spectrometers.
Thorlabs also offers a large selection of alternative fiber optic patch cables and bundles that may be purchased separately. For example, the M16L01 is an SMA-to-FC/PC-connectorized cable that contains the same fiber as the M14L01 patch cable included with our CCS100 and CCS175 spectrometers. Our reflection probe fiber bundles are a single-cable solution that connects to the spectrometer, light source, and sample for reflection spectroscopy applications (see the Application tab for details). We also offer custom patch cables, which can be ordered here.
Item #
CCS100
CCS175
CCS200
Optical Specs
Wavelength Range
350 - 700 nma
500 - 1000 nm
200 - 1000 nma,b
Spectral Accuracy
<0.5 nm FWHM @ 435 nm
<0.6 nm FWHM @ 633 nm
<2 nm FWHM @ 633 nm
Slit (W x H)
20 µm x 2 mmc
Grating
1200 Lines/mm, 500 nm Blaze
830 Lines/mm, 800 nm Blaze
600 Lines/mm, 800 nm Blaze
Grating Efficiency (Click for Graph)
Fiber Connector
SMA 905
Sensor Specs
Detector Range (CCD Chip)
350 - 1100 nm
200 - 1100 nm
CCD Pixel Size
8 µm x 200 µm (8 µm pitch)
CCD Sensitivity
160 V / (lx · s)
CCD Dynamic Ranged
300
CCD Pixel Number
3648
Resolution
10 px/nm
6 px/nm
4 px/nm
Integration Time
10 µs - 60 s
Scan Rate Internal Trigger
Max 200 Scans/se
S/N Ratiof
≤2000 : 1
External Trigger
Trigger Input
SMB
Trigger Signal
TTL, Rising Edge
Trigger Input Impedance
10 kΩ
Trigger Input Voltage
5 V
Trigger Frequency, Scan Rate
Max 100 Hz, 100 Scans/s
Trigger Pulse Length
Min 0.5 µs
Trigger Delay
8.125 µs ± 125 ns
General Specs
Interface
Hi-Speed USB 2.0 (480 Mbit/s)
Dimensions (L x W x H)
122 mm x 79 mm x 29.5 mm
Weight
<0.4 kg
Included Patch Cable
Patch Cable Item #
M14L01g
N/Ah
Fiber Item #
FG050LGA
FG200UCC
Core Diameter
50 µm ± 2%
200 ± 8 µm
Cladding Diameter
125 ± 1 µm
240 ± 5 µm
Coating Diameter
250 µm ± 4%
260 ± 6 µm
NA
0.22 ± 0.02
0.22 ± 0.02
Wavelength Range
400 to 2400 nm
250 to 1200 nm
Connectors
SMA905
CCD Spectrometer SMA Bulkhead and Entrance Slit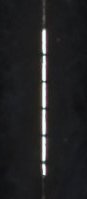 Click to Enlarge
BFL200HS02 Ø200 µm core, seven fiber bundle behind the entrance slit of a CCS100 spectrometer. The outer ~2 fibers of the bundle are truncated by the Ø1.2 mm aperture.
Slit Dimensions Note
Our CCD spectrometers have a mechanical entrance slit dimension of 20 µm x 2 mm. However, there is a Ø1.2 mm mechanical aperture built into the SMA fiber bulkhead and adjacent to the slit, which limits the effective slit dimension to 20 µm x 1.2 mm.
Graphical User Interface
Features
Operates up to 10 Devices Simultaneously
Auto-Detection of Compatible Devices
Available Filters: Peak Finder, Smoothing, Averaging, Flip/Revert Picture
Algorithms: Gaussian Transformation, Absorbance, Transmittance and Relative Difference Measurement
Normalized Y Axis
Persistence Option
User Wavelength Calibration
Different Thread for Data Acquisition for Better Responsiveness to User Input
User Selectable Colors and Shapes
Saving and Retrieval of Scans (JCAMP-DX or CSV)
Copy Function to Clipboard
Printable Windows
Tabbed or Floating Windows
Polynomial or Gaussian Data Fitting
Adjustable Parameters
Integration Time
Trigger Modes: Internal, External, Continuous, Single Shot
Averaging Method: Gliding or Block Average
Smoothing Method: Block Smoothing
Picture Flip and Revert
Display Mode: nm or pixel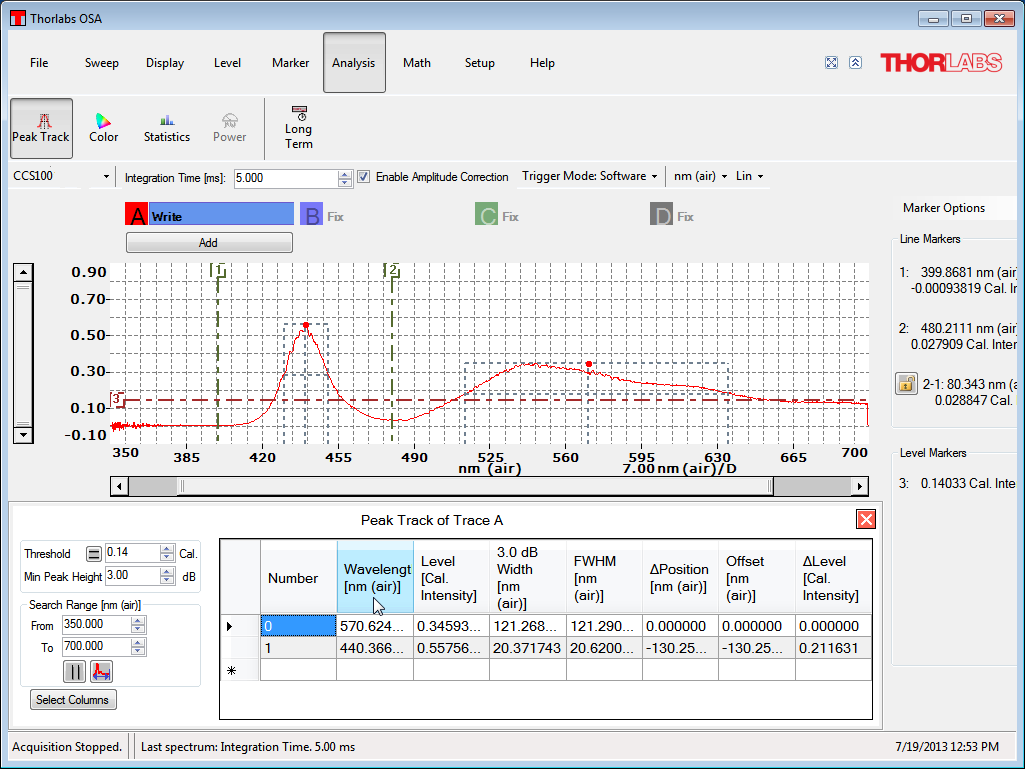 The CCS Series Spectrometers feature the easy-to-use OSA software with a graphical user interface. The package is designed for laboratory and manufacturing applications. The data, background, and peaks can be shown in a single graph. With the help of smoothing and averaging algorithms the user is able to enhance specific features of the spectra. Furthermore the software is able to handle several devices at one time which are presented in a single graph.
The above screenshot shows the Peak Track analysis mode, which allows the position, amplitude, and width of peaks in the spectrum to be tracked over time. As long as track peak mode is active, the track peak analysis area will be displayed below the graph. A table with information on each peak is to the lower right while the lower left of the screen contains a small toolbox used to set the criteria for identifying the peaks.
Additionally, Thorlabs provides drivers for C/C++, LabWindows/CVI, Dot NET, NI LabVIEW, and Visual Basic for more specific demands. The software package supports NI LabVIEW from version 8.5 onwards. For earlier versions the code can be converted. Please contact techsupport@thorlabs.com for details.
Data Processing
The software allows stored data to be loaded for comparison. This data can be used to calculate and show the absorbance, transmittance or relative difference view.
Split View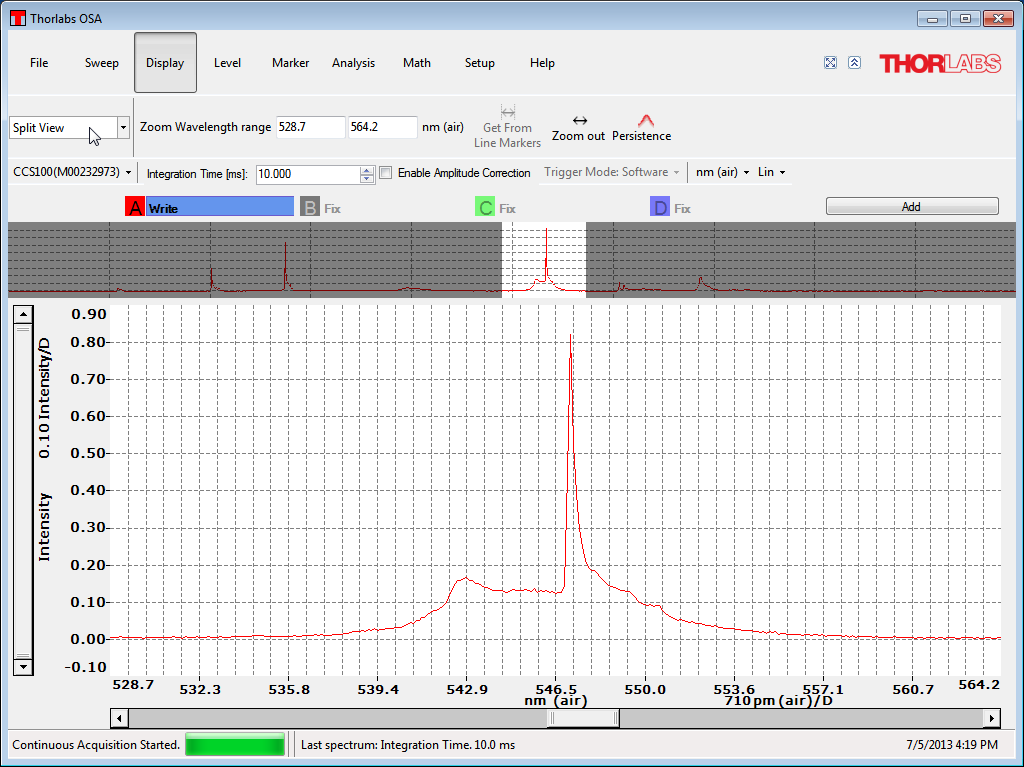 Color Analysis Screen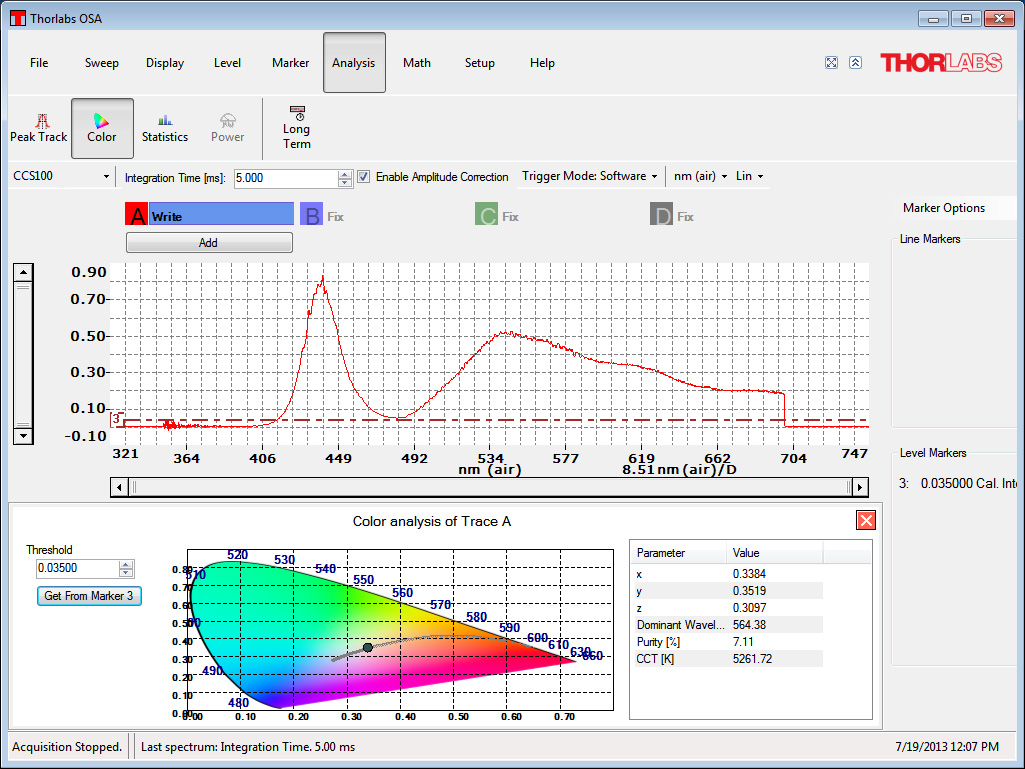 Trigger Input
SMB Male

TTL, 5V, Max 100 Hz
Computer Connection
USB Type Mini-B
USB Type Mini-B to Type A Cable Included
Software for Spectrometers and Optical Spectrum Analyzers
Thorlabs' CCS Series Spectrometers are controlled by our Optical Spectrum Analyzer (OSA) software package. In addition to the software package, a Communications Protocol manual is also available to provide a guide for writing custom applications to control the spectrometers. Please note that this software package is not compatible with Windows XP; for more information about using a spectrometer with Windows XP, please contact Tech Support.
| CCS100 | CCS175 | CCS200 | Part |
| --- | --- | --- | --- |
| x | | | Compact Spectrometer for 350 - 700 nm |
| | x | | Compact Spectrometer for 500 - 1000 nm |
| | | x | Compact Spectrometer with Extended Range for 200 - 1100 nm |
| x | x | | M14L01 SMA MM Fiber Patch Cable, Low OH, NA 0.22, 50 µm Core, 1 ma |
| | | x | FG200UCC SMA MM Fiber Patch Cable, High OH, NA 0.22, 200 µm Core, 1 ma |
| x | x | x | SMB to BNC Adapter Cable |
| x | x | x | USB 2.0 Cable A to Mini B, 1.5 m |
| x | x | x | Distribution CD with Software |
Reflection Spectroscopy Application
These CCD spectrometers can be used along with our reflection spectroscopy probes, broadband fiber-coupled light sources, and fiber probe holders to take diffuse reflection, specular reflection, and color measurements.

Spectrometers
Thorlabs offers several CCD-based spectrometers for use in the visible, NIR, or UV to NIR spectral ranges. The CCS100 and CCS175 operate in the 350 - 700 nm and 500 - 1000 nm spectral ranges with 0.5 nm and 0.6 nm resolution, respectively. The extended-range CCS200 operates in the 200 - 1000 nm spectral range with 2.0 nm resolution, but the UV range may be heavily attenuated when analyzing broadband spectra.
Light Sources
The SLS201L tungsten-halogen broadband fiber-coupled light source delivers a 2796 K blackbody-type spectrum in the 360 - 2600 nm wavelength range and has active electronic stabilization for low spectral and intensity drift. Alternatively, the SLS202L light source delivers similar performance with a 1900 K color temperature and 450 - 5500 nm emission range, while the SLS203L provides free space output with a 1500 K temperature and 500 - 9000 nm emission range. We also offer fiber-coupled LEDs available with a selection of peak wavelengths or a broadband white-light emission spectra and our line of fiber-coupled laser sources offers a selection of options for intense single-wavelength illumination.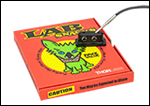 Click to Enlarge
Diffuse Measurement Taken at 45° Using RPH Holder Block
Reflection Probe Fiber Bundles
Thorlabs offers reflection probes with either high-OH or low-OH multimode fiber for wavelengths from 250 - 1200 nm and 400 - 2400 nm, respectively. Probes are available with a sample end that terminates in either a Ø1/4" probe or an SMA905 connector. We also offer Ø1/4" and SMA-terminated probes with linear fiber bundle spectrometer ends that provide increased spectrometer coupling efficiency for samples with low reflectance.
If the coaxial illumination provided by a reflection probe bundle is not critical, separate fiber patch cables or bundles with SMA connectors can be used for illumination and signal collection. Our large-core round bundles maximize illumination intensity, while our single-fiber multimode SMA patch cables are useful for precise illumination, or for connection to a fiber-coupled laser. We also offer round-to-linear fiber bundles, which maximize signal strength at the spectrometer.
Reflection Probe Holders
Thorlabs offers the RPS and RPS-SMA fiber probe stands (RPS-SMA shown above and to the right), which allow for precise, stable positioning of the fiber optic probe at an angle of 90° or 45° relative to the sample. The probe holder arms (also sold separately) can also be integrated into other optomechanical setups using Ø1/2" posts. Alternatively, the RPH and RPH-SMA probe holder blocks sit directly on a sample, allowing the fiber tip to be positioned close to the surface and also blocking out room lights from the area under test.
Linear Fiber Bundles vs. Single-Fiber Patch Cables
Entrance Slit Throughput Comparison
Our linear fiber bundles (sold below) can be used in place of the single-fiber patch cables included with these spectrometers to provide a significant increase in signal strength. The images below show how light exiting a linear fiber bundle more closely matches the geometry of the spectrometer's entrance slit than that from a standard patch cable. The accompanying graphs show comparison spectra of an SLS201L broadband light source measured with a CCS100 spectrometer when using a linear bundle versus a standard patch cable. As shown in the graphs below, the Ø105 µm core linear bundles provide a maximum power increase of ~500% versus a comparable single-fiber cable, while the Ø200 µm core linear bundles provide a maximum power increase of ~300%.
Ø105 µm Core Cable Comparison
Ø200 µm Core Cable Comparison