ScienceDesk™ Workstations for 2' x 3' (600 mm x 900 mm) Breadboard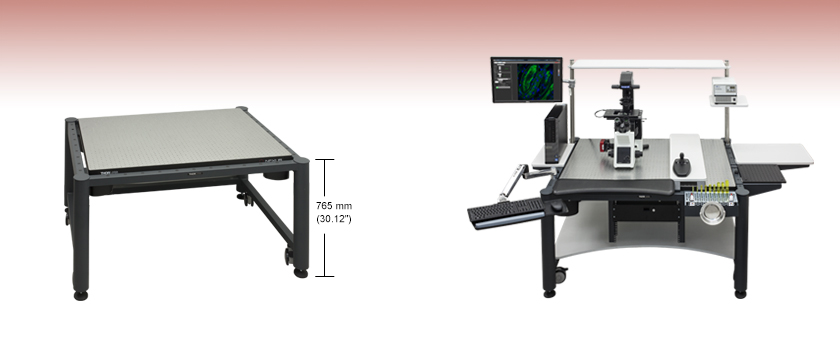 2' x 3' (600 mm x 900 mm) Work Surface
Welded Steel Frame with Passive or Rigid Supports
Full Line of Modular Workstation Accessories
Ergonomic Design Provides Legroom when Sitting
SDP6090
Passive Frame
with 2' x 3' Breadboard
(Breadboard Available Separately)
Workstation with Accessories
See Accessory Options Tab for Details
(Excludes Microscope, Microscope Accessories, and Computer)

Please Wait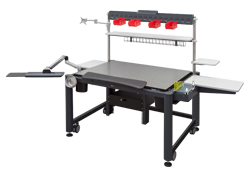 Click to Enlarge
ScienceDesk Equipped with Various Shelving, Storage, and Computer Accessories
Features
2' x 3' (600 mm x 900 mm) Breadboards
Two Support Options:

Passive (<0.1

µm Resolution Achievable

)
Non-Isolating

(<1

µm Resolution Achievable)

Various Breadboard Options Available:

1/4"-20 Taps, M6 Taps, or Untapped
Sealed Mounting Holes
Magnetic or Non-Magnetic

Welded Steel Frame (No Assembly Required)
Easy to Relocate with Optional Casters
Range of Accessories Available
Our ScienceDesk™ Workstations designed for 2' x 3' (600 mm x 900 mm), 60 mm thick honeycomb breadboards are high-quality, ergonomic workstations with a modular system of accessories, making them ideal for use in imaging or photonics applications. A complete workstation includes a frame, breadboard, and optional accessories (all sold separately). Information on the available breadboards and accessories can be found below along with a simplified guide for customizing your own ScienceDesk workstation.
The work surface of the ScienceDesk is mounted on rigid or vibration-isolating supports that are recessed within the frame rails to protect the tabletop from incidental contact. These steel frame rails also facilitate the strategic placement of shelves and other accessories around a system so that supporting equipment can be in close proximity to the isolated surface without being on it. See the Accessory Options tab or the image to the right for sample ScienceDesk configurations.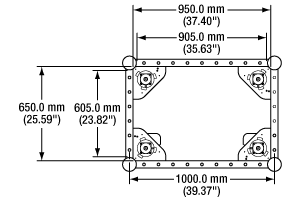 Click for Details
Depth: 605.0 mm (25.59"), Width: 905.0 mm (35.63")
These ScienceDesks are designed for use with 600 mm x 900 mm breadboards. The breadboard dimensions designate compatible accessories (e.g. an Overhead shelf for 900 mm wide ScienceDesks will be compatible with the above table).
Each workstation is available with rigid (non-damping) or passive supports for applications requiring resolutions of <1 µm or <0.1 µm respectively. The passive anti-vibration frame provides the user with a tabletop that is isolated from the detrimental effects that vibrations in the lab may cause, while the rigid option will not isolate the breadboard from external vibrations. For more details on the different support options please see the Isolators tab.
Breadboard
Our Nexus® Optical Breadboards feature all-steel construction with a honeycomb core, excellent thermal stability, and broadband damping optimized for each table. They provide a durable, rigid, 60 mm thick working surface that will quickly damp vibrations created on the tabletop. They are available with the standard 1/4"-20 (M6) hole pattern on 1" (25 mm) centers, with sealed or unsealed holes, and the option of 304L nonmagnetic steel.
Also offered are our intrinsically damped breadboards that feature a steel honeycomb core and working surface with unplasticized polyvinyl chloride (uPVC) side panels. These 58 mm thick breadboards are approximately 25% lighter than our Nexus breadboards and are available for applications that require minimal vibration damping on the tabletop.
See the Specs tab for a complete comparison of the different breadboard options.
Accessories
Accessories are the key to creating an ergonomic workspace. ScienceDesk accessories are designed to provide the flexibility to place a breadboard, shelf, or storage bin at any position above, below, or to the side of the imaging system. In addition to shelving and storage, ScienceDesks can be equipped with brackets and holders to support computer equipment, casters for mobility, and a wrist rest for comfort. Thirty accessory mounting points along the upper rails provide numerous configuration options to help simplify the customization of your workstation.
Customize Your 2' x 3' (600 mm x 900 mm) ScienceDesk Workstation
See the selection guide to the above right for alternate
size options.
See the Specs tab for full specifications.
All accessories shown on this page are compatible with the frame size presented on this page.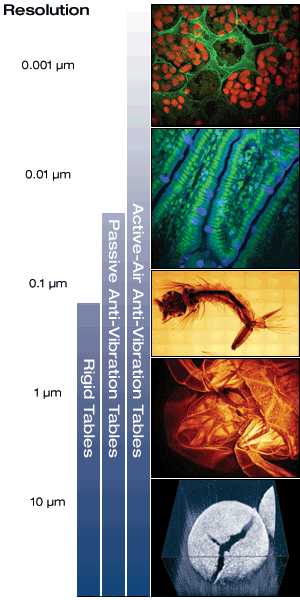 Right side of image from top to bottom: Pisum Seed (
Two-Channel Fluorescence Image
), Mouse Intestine (
Two-Photon Fluorescence Image
), Mosquito Larva (Developmental Adaptive Optic Laser Scanning Microscopy), Peach Worm Head (
Confocal Fluorescence Image
), Cracked Drug Bead Coating (
OCT Image
).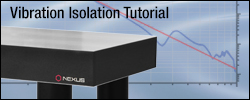 ScienceDesk™ Isolators
Thorlabs' ScienceDesk frames have isolator mounting platforms in each of the interior four corners of the top rail. These platforms are fitted with rigid (non-isolating), standard passive, heavy-duty passive, or active supports for optical breadboards depending on the model chosen.
Active-Air: This is the highest level of isolation available in the ScienceDesk line of workstations. Ideal for confocal microscopy, high-resolution optical microscopy, scaning probe microscopy, electrophysiology, holography, optical lithography, high-power optical microscopy, or other application requiring nanometer resolution. We do not currently offer this level of isolation for ScienceDesks with a 2' x 3' (600 mm x 900 mm) work surface. If active isolation is required please see our ScienceDesks that have a 2.5' x 3' (750 mm x 900 mm), 2.5' x 4' (750 mm x 1200 mm), or 3' x 4' (900 mm x 1200 mm) work surface. We also offer active isolation Corner desks.
Passive: The standard version has been optimized for typical imaging applications that require micon resolution, while our heavy-duty isolators allow a larger load to be placed on the isolated breadboard. The level of isolation provided by our passive isolators provides an ideal environment for optical, OCT, confocal, and other imaging systems without the need for a constant supply compressed air. If heavy-duty isolation is required please see our ScienceDesks that have a 2.5' x 3' (750 mm x 900 mm), 2.5' x 4' (750 mm x 1200 mm), or 3' x 4' (900 mm x 1200 mm) work surface. We also offer heavy-duty passive isolation Corner desks.
Rigid (Non-Isolating): Commonly used in laboratory environments for applications that are not overly sensitive to vibrations due to the lack of pneumatic isolators.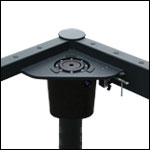 Active Supports
Set of Four Max Load Capacity: 700 kg (1540 lbs)
Pneumatic Dual-Chamber Air Spring Damps Vertical Vibrations
Trifilar Suspension System Damps Horizontal Vibrations
Self-Leveling Valves with High Repeatability
Our ScienceDesks equipped with active isolators provide the highest degree of vibration isolation. Vertical damping is achieved by the use of a dual-chamber, damped pneumatic spring. The table is supported by the air pressure in these chambers. A piston, in contact with the bottom of the optical breadboard, is sealed to the upper chamber with a rolling rubber diaphragm, allowing virtually friction-free motion between piston and chamber. Floor or breadboard motion forces air to flow from one chamber to the other through a laminar flow damper. This restriction of airflow damps oscillatory motion between the floor and table, dramatically reducing settling time.
The volume ratio of the chambers has been optimized to minimize the resonant frequency of the table frame while maximizing the damping performance. Damping of horizontal vibrations is accomplished by supporting the pneumatic vertical isolator on a Trifilar suspension system. This innovative pendulum design uses gravity to provide the restoring force after horizontal disturbances. Horizontal oscillations at the system's resonant frequency are damped by linking the base of the vertical isolator to the outer cylinder with an oil-free, vibration-absorbing damper. To allow for changes in load distribution, the active vibration isolation optical breadboard supports have a self-leveling system based on precision 3-way valves that do not compromise vertical isolation when the system is at rest. Because these valves are actuated by breadboard movement, the system returns to within ±0.5 mm (0.02") of its original level position after disturbances. These isolators require a constant supply of air, such as that provided by our compressor. Removing the air supply will disable the active isolation system, causing the optical table to rest securely on top of the legs.
ScienceDesks with active, self-leveling isolators not only provide the highest level of isolation but they are ideal for applications where the load placed on the optical breadboard is constantly changing. In addition, the active ScienceDesk frame is often chosen when the surrounding environment is less than ideal since the active isolators provide a higher level of isolation from floor vibrations.
Passive Supports
Set of Four Load Capacity

Standard Passive Isolators: 260 kg (570 lbs) Maximum Load
Heavy-Duty Passive Isolators: 700 kg (1540 lbs) Maximum Load

Pneumatic Spring
The passive isolators on a ScienceDesk consist of an air chamber with a rolling-rubber sidewall. The air chamber is connected by tubing to a Schrader valve so that once the air chamber is inflated, the source of compressed air or the pump used to pressurize the chamber can be removed. The optical breadboard is supported by the air pressure in the chamber, which can be adjusted to compensate for a change in the load supported by the system. The volume and stiffness of the reinforced rubber air chamber has been optimized to minimize the resonant frequency of the optical table supports while maximizing the damping performance. The optical breadboard is supported by rigid supports when the passive isolators are not inflated.
ScienceDesks with passive isolators are the most frequently chosen ScienceDesk for imaging applications. The level of isolation provided by the passive isolators provides an ideal environment for optical, OCT, confocal, and other imaging systems without the need for a constant supply of regulated compressed air. The compact frame supports a family of accessories that allow for the creation of an ergonomic workstation for imaging applications. For instance, a Swept Source OCT Imaging System contains the optical scan head as well as a computer, monitor, swept source laser, and a control box. With the ScienceDesk, all of the supporting electronics can be easily situated around the isolated optical breadboard without transmitting the vibrations created by the cooling fans.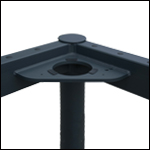 Rigid Supports
Set of Four Max Load Capacity: 700 kg (1540 lbs)
Non-Skid, Rubberized Optical Breadboard Contact Pad
Rigid supports are non-isolating optical breadboard supports. They consist of a steel mounting tray welded into each corner of the frame. Each tray has 3 contact pads made from a rubberized material. The non-slip rubberized material prevents the position of the optical breadboard from drifting within the optical breadboard well of the ScienceDesk frame. The mounting trays are tested at the factory to ensure they are level. ScienceDesk frames with rigid supports are offered by Thorlabs for use in applications that are not sensitive to vibrations but that can still benefit from the ergonomic design and flexibility of the ScienceDesk system. For instance, applications like microscope slide preparation and low resolution semiconductor inspection might not require an isolated work surface, but the researcher or technician still needs to perform delicate tasks for prolonged periods of time in an environment that can support the preparation and inspection tools required for the application.
Build your 2' x 3' (600 mm x 900 mm) ScienceDesk Workstation Below
Using the components on this page you can construct a fully modular and ergonomical workstation to fit any need in the lab. A sample configuration is shown below with a 765 mm (30.12") tall, passive ScienceDesk frame and 1/4"-20 tapped breadboard. More frame, breadboard, shelving, and accessory options are available below.
Click on the various ScienceDesk elements in the photo below for more information on each item.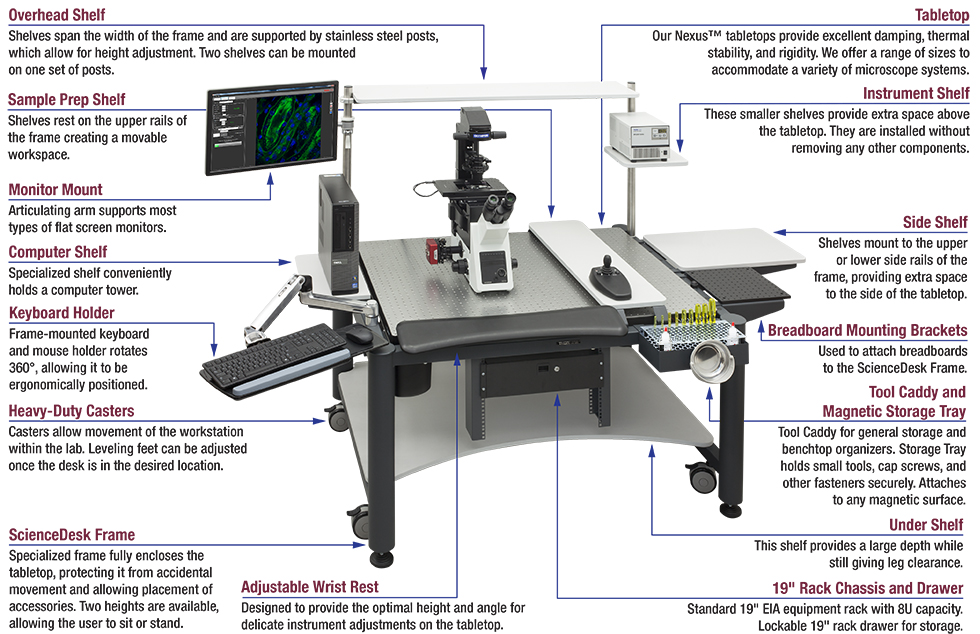 The Following Accessories are Not Shown in the Image Above
Overhead Shelves with 12° Tilt: Overhead shelves with a 12° downward tilt for easy viewing and storage of equipment in the lab.
Post-Mounted Components Tray: A 300 mm x 300 mm tray for holding small parts.
Post-Mounted Breadboard Brackets: Bracket for Attaching up to 300 mm x 300 mm or 12" x 12" breadboards to a mounting post.
Overhead Storage Tray with Rack: Steel tray for included tool caddy and a front-located steel rack for included linbins.
Lab Bench: 1700 mm x 600 mm free-standing bench that can be attached to the ScienceDesk frame using the provided brackets.
Frame Risers: Designed to raise the standard ScienceDesk tabletop to a height of 910 mm (35.80"), making it an ideal standing desk.
12-Outlet Power Strips: Available with US-, EU-, or UK-style plugs. Fits to the rear rail of the desk or underneath the overhead shelf.
LED Strip Light: Fits underneath the overhead shelf.
Cable Tray: Ideal for keeping electrical and fiber optic cables tidy.
Elbow Rest: Keeps arms elevated above the tabletop.
Posted Comments:
No Comments Posted