Storage for ScienceDesk™ Workstations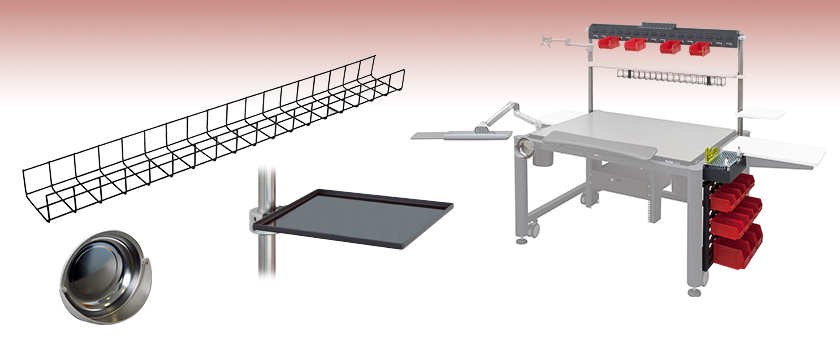 Ideal for Organizing the Workspace
Multiple Options Provide Customization
Sturdy, Steel Construction
MPT101
Magnetic Storage Tray
PSY230
Cable Tray
Application Idea
ScienceDesk Equipped with Various Storage Options
PSY320
Post-Mounted Components Tray

Please Wait
Features
Multiple Options Provide Storage Above, Below, or at Table Level
Linbin Options for Organization in the Lab Space
Cable Tray for Sorting and Organizing Cables
Thorlabs offers a large variety of storage solutions for our ScienceDesk™ Workstation. They allow lab supplies, such as general tools, electrical accessories, or fiber accessories to be stored away but close at hand for easy access when needed. Our modular array of storage options can be placed above, below, or at table level depending on preference. Linbins provide organization of small to medium sized tools around the workspace, while a tool caddy can hold larger objects such as a BT17 (BT17/M) Benchtop Organizer. A cable tray is also available for sorting and holding cables in the lab. We also offer CMS021 cable identification ties that are ideal to use with our cable tray below.
Similar to our shelving options and other accessories, all of our storage options can be selectively added when the need arises, allowing for a fully modular and customizable workspace.
Please Note: These accessories are compatible with our current ScienceDesks (SD Series) and cannot be used with our former generation (PS Series) products sold before March 2009.
Sample ScienceDesk Workstation Configuration
Click on the various ScienceDesk accessories or text in the photo below for more information on that item.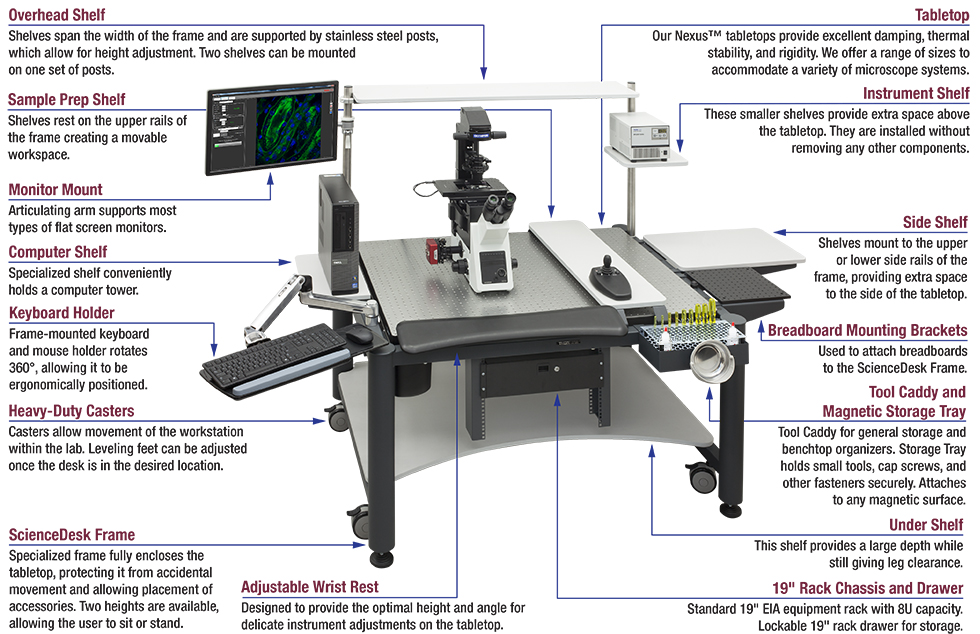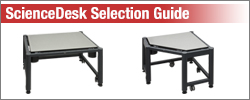 The Following Accessories are Not Shown in the Image Above
Overhead Shelves with 12° Tilt: Overhead shelves with a 12° downward tilt for easy viewing and storage of equipment in the lab.
Overhead Storage Tray with Rack: Steel tray for included tool caddy and a front-located steel rack for included linbins.
Post-Mounted Components Tray: A 300 mm x 300 mm tray for holding small parts.
Frame Risers: Designed to raise the standard ScienceDesk tabletop to a heoght of 910 mm (35.80"), making it an ideal standing desk.
12-Outlet Power Strips: Available with US-, EU-, or UK-style plugs. Fits to the rear rail of the desk or underneath the overhead shelf.
Storage Rack: Adds plastic storage bins to the side or rear panel of the ScienceDesk. Cannot be used with the Under Table Shelf.
LED Strip Light: Fits underneath the overhead shelf.
Cable Tray: Ideal for keeping electrical and fiber optic cables tidy.
Components Tray: A 300 mm x 300 mm tray for holding small parts.
Posted Comments:
No Comments Posted