These ergonomic Arm Rests have been designed to provide the optimum height and angle for adjusting nanopositioning stages or other equipment and enable operators to perform delicate instrument adjustments with higher accuracy and lower fatigue. They each mount to the upper bars of the ScienceDesk frame.The padded portion of the arm rests is molded foam to provide extra comfort for the user.
Two arm rest options are available; the PSY100 Wrist Rest and the TWR300 Elbow Rest. The PSY100 is 800.0 mm (31.50") long and is bolted onto the upper rails of the ScienceDesk. The TWR300 is 300.0 mm (11.81") long and slips over the upper bars of the ScienceDesk, allowing it to be easily slid across the length of the bar.
Please Note: These accessories are compatible with our current ScienceDesks (SD Series) and cannot be used with our former generation (PS Series) products sold before March 2009.
Sample ScienceDesk Workstation Configuration
Click on the various ScienceDesk accessories or text in the photo below for more information on that item.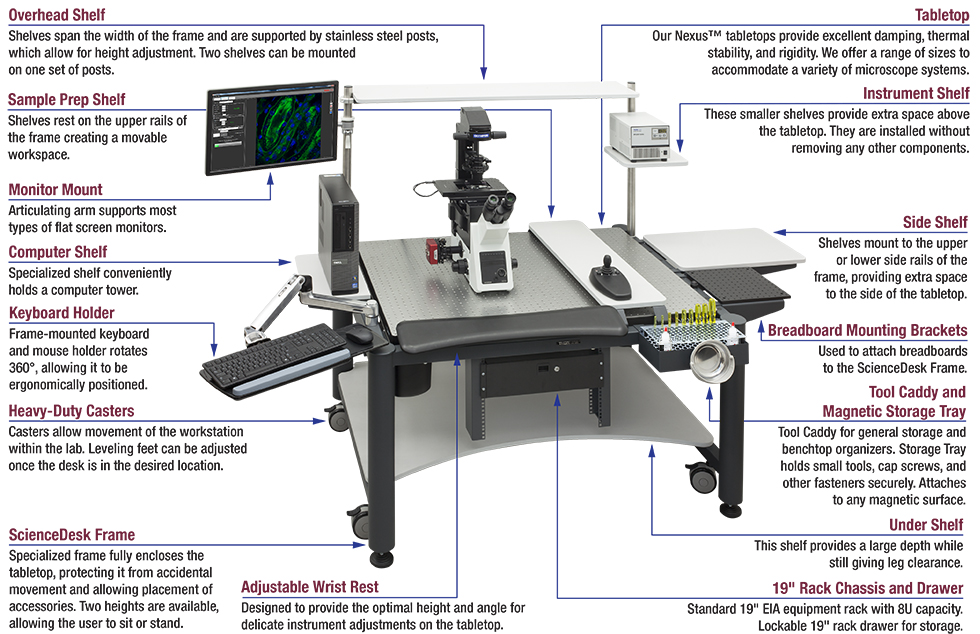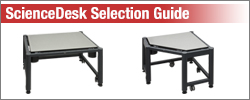 The Following Accessories are Not Shown in the Image Above
Overhead Shelves with 12° Tilt: Overhead shelves with a 12° downward tilt for easy viewing and storage of equipment in the lab.
Post-Mounted Components Tray: A 300 mm x 300 mm tray for holding small parts.
Post-Mounted Breadboard Brackets: Bracket for Attaching up to 300 mm x 300 mm or 12" x 12" breadboards to a mounting post.
Overhead Storage Tray with Rack: Steel tray for included tool caddy and a front-located steel rack for included linbins.
Frame Risers: Designed to raise the standard ScienceDesk tabletop to a heoght of 910 mm (35.80"), making it an ideal standing desk.
12-Outlet Power Strips: Available with US-, EU-, or UK-style plugs. Fits to the rear rail of the desk or underneath the overhead shelf.
Storage Rack: Adds plastic storage bins to the side or rear panel of the ScienceDesk. Cannot be used with the Under Table Shelf.
LED Strip Light: Fits underneath the overhead shelf.
Cable Tray: Ideal for keeping electrical and fiber optic cables tidy.
Elbow Rest: Keeps arms elevated above the tabletop.