General Specifications
Diameter Tolerance
+0.0/-0.1 mm
Substrate
UV Fused Silica
Substrate Thickness
1.5 mm (0.06")
Surface Flatness
λ at 633 nm
Surface Quality
60-40 Scratch-Dig
OD of Chrome Coating (Typ.)
3 at 633 nm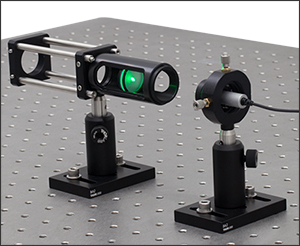 Click to Enlarge
Figure 1.
An R1DS3N Negative Reticle and a
DG10-1500
Diffuser shown mounted with the ground side against the reticle. Together, they create an alignment target for a
CPS520
Laser Diode Module that is mounted in
KAD11F
Kinematic Adapter and an
LM1XY
Translation Mount. The light is incident on the polished side of the diffuser.
Features
Positive and Negative Crosshair and Concentric Circle Patterns
Available Sizes: Ø19.0 mm, Ø21.0 mm, or Ø1"
UV Fused Silica Substrate
Patterns Made of Chrome Layer that is 0.120 µm Thick
Reticles are optics designed for insertion in the eyepiece of an imaging system that superimpose either a crosshair or concentric circle pattern on the imaged object. The pattern provides a reference location and allows the imaged object to be centered. Because they are intended to be used in transmission, Thorlabs' line of reticles is made from a UV fused silica substrate, unlike our test targets, which are made from soda lime glass. UV fused silica provides excellent transparency from the infrared down into the ultraviolet.
Many of our reticles are available with positive and negative patterns. The positive reticles consist of high-reflectivity, vacuum-sputtered chrome patterns plated on clear substrates and are useful for front-lit and general applications. The negative reticles use the same chrome coating to cover the substrates, leaving the patterns clear, and work well in back-lit and highly illuminated applications.
All the parts shown here are manufactured at Thorlabs' in-house semiconductor device production facility in Jessup, Maryland. Our extensive production capabilities enable us to provide solutions for imaging system calibration and measurements. We use contact photolithography with a mask aligner to define the pattern on the glass substrate. Once the pattern is defined, we chemically etch the substrates and clean them in a class 100 cleanroom.
Thorlabs also offers a selection of test targets, calibration targets, and stage micrometers for imaging systems.

Click to Enlarge
Figure 3.
View through the Reticle shown in Fig. 1 when the laser is misaligned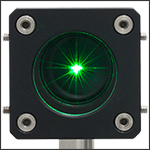 Click to Enlarge
Figure 2.
View through the reticle shown in Fig. 1 when the laser is aligned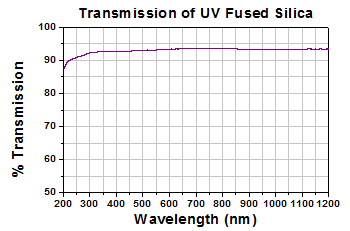 Click to Enlarge
Transmission for 1.0 mm UVFS Substrate
For a graph that extends to 3.2 µm, please see the
Graphs
tab.
The following transmission plot was measured at normal incidence using a UV fused silica substrate that was 1.0 mm thick. The transmission for the reticles sold here will be slightly lower because of their 1.5 mm thickness.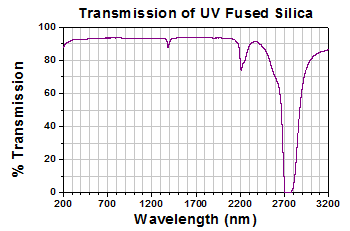 Click to Enlarge
Transmission from 200 nm - 3.2 µm