Features
Extremely Low Noise (LDC201CU 0.2 μA)
5-Digit LED Display
Analog Control Input and Output
Reliable Laser Diode Protection
Operates With All Polarities of Laser Diode and Photodiode
Seven Models With Laser Current Ranges From 20 mA to 4 A
Certificate of Calibration and Test Report Included
The laser diode controllers in the LDC200C series all provide features that ensure outstanding performance. There are seven models with different current ranges, each configured to provide optimal performance for their particular application. Every unit ships with a certificate of calibration as well as a full test report. Please refer to the Specs tab and the Selection Guide tab for an overview of the products.
Modes
With the laser diode controllers of the LDC200C series, laser diodes can be driven in constant current (CC) or constant power (CP) mode. All laser diode and photodiode configuration types are supported. The laser diode is always driven with respect to ground. In comparison to driver designs that require a floating ground, this grounded operation of the laser diode offers advantages regarding noise, transient suppression, and stability.
Constant Current
In CC mode, the current to the laser is held precisely at the prescribed level. This mode is used when the lowest noise and highest response speed is required. Most applications in this mode require stabilizing the temperature as well. We offer two lines of temperature controllers, the TED200C for up to 12 W and the TED4015 for up to 225 W.
Constant Power
In CP mode, the internal photodiode integrated into most laser diode packages is used to actively stabilize the laser's output power, which is adjusted by a feedback circuit. An adjustment of the full scale photodiode current in CP mode is provided in order to compensate for the differences in the photodiode currents between different laser diodes.
Controller Use
Intuitive User-Friendly Operation
Independent of the selected operating mode, the 5-digit LED display can show the laser current, the photodiode monitor current, or laser current limit. It can also display the optical power (in mW). The power readout can be calibrated to the responsivity of the monitor photodiode by adjusting a front panel trim potentiometer. In many applications, the aforementioned benefits eliminate the need for a separate optical power meter.
Additional Rear Panel Controls
Available for use at the rear of the unit are: a modulation input for laser current or power (which can be used to pulse the laser diode output), a control output proportional to the laser current, and a TTL input for remote laser on/off.
Protection Features
Current Limit
A precisely adjustable current limit ensures that the maximum laser current cannot be exceeded. Thorlabs has intentionally provided limited access to this feature to prevent accidental adjustment. An attempt to increase the laser drive current above the pre-set limit will result in a visible and short audible indicator. Even when utilizing the external modulation feature, the current limit set-point cannot be exceeded.
Current Source
If the connection between the current source and laser diode is interrupted, the current source automatically switches off the current output. The open current circuit condition is indicated by the LED "OPEN" and a short acoustic warning. The separate laser ON key switches the laser current on and off. When switched off, an electronic switch within the LDC200C short circuits the laser diode for added protection. After being switched on, a soft start ensures a slow increase of the laser current without voltage peaks. Even in the case of line failure, the laser current remains transient-free. Voltage peaks on the AC line are effectively suppressed by electrical filters, shielding of the transformer, and careful grounding of the chassis.
Connection Cables
A CAB400 is required to connect the LDC200C series laser diode controllers to a Thorlabs' Laser Diode Mount. One cable is included with each laser diode controller, it has a length of 1.5 m. Additional cables can be ordered below.
Item #
LDC200CV
LDC201CU
LDC202C
LDC205C
LDC210C
LDC220C
LDC240C
Current Control (Constant Current Mode)
Control Range
0 to ±20 mA
0 to ±100 mA
0 to ±200 mA
0 to ±500 mA
0 to ±1 A
0 to ±2 A
0 to ±4 A
Compliance Voltage
>6 V
>5 V
>10 V
>10 V
>10 V
>4 V
>5 V
Resolution
1.0 µA
10 µA
10 µA
10 µA
100 µA
100 µA
100 µA
Accuracy
±20 µA
±50 µA
±100 µA
±0.5 mA
±1.0 mA
±2.0 mA
±4.0 mA
Noise Without Ripplea
<1.0 µA
<0.2 µA
<1.5 µA
<3 µA
<5 µA
<15 µA
<50 µA
Rippleb
<0.5 µA
<0.5 µA
<1.5 µA
<2 µA
<3 µA
<5 µA
<8 µA
Transients (typ.)
<10 µA
<10 µA
<0.2 mA
<0.5 mA
<1 mA
<2 mA
<4 mA
Drift, 24hoursc
<1 µA
<2 µA
<3 µA
<10 µA
<20 µA
<100 µA
<200 µA
Temperature Coefficient
<50 ppm/°C
Current Limit
Setting Range
0 to >20 mA
0 to >100 mA
0 to >200 mA
0 to >500 mA
0 to >1 A
0 to >2 A
0 to >4 A
Resolution
1 µA
10 µA
10 µA
10 µA
100 µA
100 µA
100 µA
Accuracy
±50 µA
±200 µA
±500 µA
±1.5 mA
±2.5 mA
±5 mA
±10 mA
Power Control (Constant Power Mode)
Photocurrent Control Range
5 µA to 2 mA
25 µA to 10 mA
50 µA to 20 mA
Photocurrent Resolution
0.1 µA
1 µA
1 µA
Photocurrent Accuracy
±2 µA
±10 µA
±20 µA
Analog Modulation Input
Input Resistance
10 kΩ
Small Signal 3dB Bandwidth,
CC Mode
DC to 100 kHz
DC to 0.2 kHz
DC to 250 kHz
DC to 150 kHz
DC to 100 kHz
DC to 50 kHz
DC to 30 kHz
Modulation Coefficient,
CC Mode
2 mA/V ± 5%
10 mA/V ± 5%
20 mA/V ± 5%
50 mA/V ± 5%
100 mA/V ± 5%
200 mA/V ± 5%
400 mA/V ± 5%
Modulation Coefficient, CP Mode
0.2 mA/V ± 5%
1 mA/V ± 5%
2 mA/V ± 5%
Laser Current Monitor Output
Load Resistance
>10 kΩ
Transmission Coefficient
500 V/A ± 5%
100 V/A ± 5%
50 V/A ± 5%
20 V/A ± 5%
10 V/A ± 5%
5 V/A ± 5%
2.5 V/A ± 5%
General data
Safety Features
Interlock, Laser Current Limit, Soft Start, Short Circuit when Laser Off,
Open Circuit Detection, Over Temperature Protection
Display
LED, 5 Digits
Connector for Laser, Photodiode,
Interlock & Laser On Signal
9-pin D-Sub Jack
Connectors for Control
Input / Output
BNC
Chassis Ground Connector
4 mm Banana Jack
Line Voltage / Frequency
100 V, 115 V, 230 V +15% –10% each / 50 to 60 Hz
Maximum Power Consumption
20 VA
20 VA
25 VA
30 VA
40 VA
60 VA
100 VA
Mains Supply Overvoltage
Category II (Cat II)
Operating Temperature
0 to 40 °C
Storage Temperature
-40 to 70 °C
Relative Humidity
Max. 80% Up to 31 °C, Decreasing to 50% at 40 °C
Pollution Degree (Indoor Use Only)
2
Operation Altitude
<2000 m
Warm-up Time for
Rated Accuracy
10 min
Weight
<3.1 kg
<3.3 kg
Dimensions (W X H X D)
without Operating Elements
146 x 66 x 290 mm³
Dimensions (W X H X D)
with Operating Elements
146 x 77 x 320 mm³
LDC Front Panel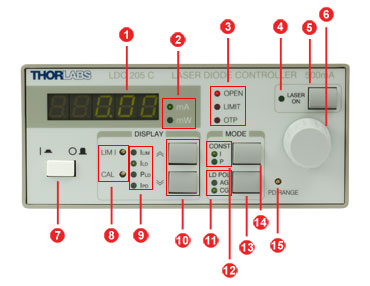 Click to Enlarge
Callout
Connection
Callout
Connection
1
5-Digit LED Display
9
Display Indicators
2
Display Units
10
Up/Down Display Select
3
Interlock Indicators
11
Diode Polarization Indicator
4
Laser Status Indicator
5
Laser Current On/Off Switch
12
Output Mode Indicator
6
Display Adjustment Knob
13
Diode Polarization Select
7
Supply Power Switch
14
Output Mode Select
8
Current Limit and Power Calibration Pots
15
Photodiode Current Range Pot
---
LDC Back Panel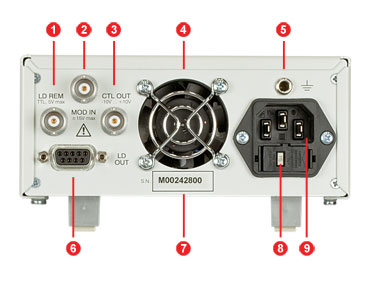 Click to Enlarge
Callout
Connection
Callout
Connection
1
TTL Input "LD REM" 0 to 5 V
6
Connector "LD OUT" for LD, PD, Interlock, & Status LED
2
Modulation Input / Analog Control Input "MOD IN", -10 to +10 V
7
Serial Number of the Unit
3
Analog Control Output "CTL OUT",
-10 to +10 V
8
Indicator / Switch for Line Voltage (Included in Fuse Holder)
4
Cooling Fan
5
4 mm Banana Jack for Chassis Ground
9
Power Connector and Fuse Holder
Pin
Connection
Pin
Connection
1
Interlock and Status LASER ON/OFF
6
Not Connected
2
Photodiode Cathode
7
Laser Diode Cathode (with Polarity Anode Grounded - AG)
3
Laser Diode Ground
8
Laser Diode Anode (with Polarity Cathode Grounded - CG)
4
Photodiode Anode
5
Ground for Pin 1
9
Not Connected
Laser Diode Connector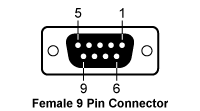 Laser Diode Remote*
*TTL Input
(0...+5 V)
Modulation Input**
**Analog Control Input
(-10 V ...10V)
Control Output***
***Analog Control Output
(0 ...±10 V)
Chassis Ground

Laser Diode Controller Selection Guide
The tables below are designed to give a quick overview of the key specifications for our laser diode controllers and dual diode/temperature controllers. For more details and specifications, or to order a specific item, click on the appropriate item number below.
Current Controllers
Item #
Drive Current
Compliance Voltage
Constant Current
Constant Power
Modulation
Package
LDC200CV
20 mA
6 V
External
Benchtop
VLDC002
25 mA
5 V
-
Int/Ext
OEM
LDC201CU
100 mA
5 V
External
Benchtop
LD2000R
100 mA
3.5 V
-
External
OEM
EK2000
100 mA
3.5 V
-
External
OEM
LDC202C
200 mA
10 V
External
Benchtop
KLD101
230 mA
≤10 V
External
K-Cube™
IP250-BV
250 mA
8 Va
External
OEM
LD1100
250 mA
6.5 Va
-
--
OEM
LD1101
250 mA
6.5 Va
-
--
OEM
EK1101
250 mA
6.5 Va
-
--
OEM
EK1102
250 mA
6.5 Va
-
--
OEM
LD1255R
250 mA
3.3 V
-
External
OEM
LDC205C
500 mA
10 V
External
Benchtop
IP500
500 mA
3 V
External
OEM
LDC210C
1 A
10 V
External
Benchtop
LDC220C
2 A
4 V
External
Benchtop
LD3000R
2.5 A
--
-
External
OEM
LDC240C
4 A
5 V
External
Benchtop
LDC4005
5 A
12 V
Int/Ext
Benchtop
LDC4020
20 A
11 V
Int/Ext
Benchtop
Dual Temperature and Current Controllers
Item #
Drive Current
Compliance Voltage
TEC Power (Max)
Constant Current
Constant Power
Modulation
Package
VITC002
25 mA
5 V
>2 W
-
Int/Ext
OEM
ITC102
200 mA
>4 V
12 W
Ext
OEM
ITC110
1 A
>4 V
12 W
Ext
OEM
ITC4001
1 A
11 V
>96 W
Int/Ext
Benchtop
CLD1010LPa
1.0 A
>8 V
>14.1 W
Ext
Benchtop
CLD1011LPb
1.0 A
>8 V
>14.1 W
Ext
Benchtop
CLD1015c
1.5 A
>4 V
>14.1 W
Ext
Benchtop
ITC4002QCLd
2 A
17 V
>225 W
Int/Ext
Benchtop
ITC133
3 A
>4 V
18 W
Ext
OEM
ITC4005
5 A
12 V
>225 W
Int/Ext
Benchtop
ITC4005QCLd
5 A
20 V
>225 W
Int/Ext
Benchtop
ITC4020
20 A
11 V
>225 W
Int/Ext
Benchtop
We also offer a variety of OEM and rack-mounted laser diode current & temperature controllers (OEM Modules, PRO8 Current Control Rack Modules, and PRO8 Current and Temperature Control Rack Modules).