See what's new at Thorlabs:
View the full list of new products (below) or browse our entire product range.
All of these items are available now!

Choose

RSS Feed to have this information delivered to you.

1 New Product in the Cage / Lens Tube Mounted Optics Family!
«« View All New Products
«« View ByCategory
Many of Thorlabs' optics are available premounted in cage-compatible or lens tube housings. These include our spherical lenses, achromatic lenses, turning mirrors, filters and diffusers, beamsplitters, prisms, and waveplates.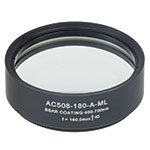 Ø2" Mounted Achromatic Doublets, AR Coated: 400 - 700 nm (View Product Family)
1 New Product!

ACT508-400-A-ML- f=400 mm, Ø2" Achromatic Doublet, SM2-Threaded Mount, ARC: 400-700 nm RELEASED: May 21, 2020 - Customer Inspired Product!