Nikon F-Mount Adapter Rings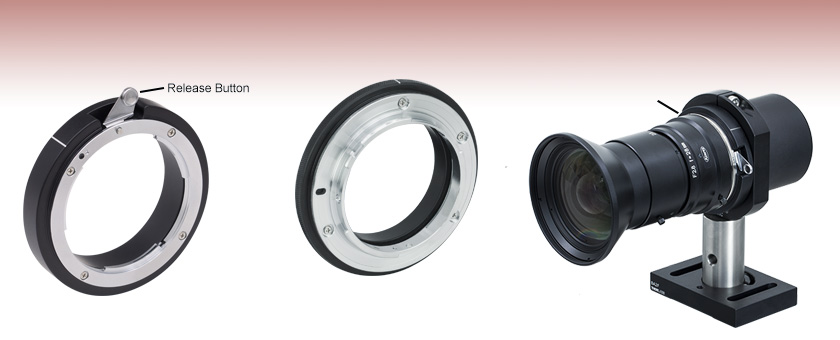 Female or Male Adapter Ring for Nikon's F-Mount Lenses or Cameras
Directly Compatible with SM2-Threaded (2.035"-40) Components
Great for Custom Imaging Applications
SM2NFM
Female F-Mount
External SM2 (2.035"-40) Threading
SM2NFM2
Male F-Mount
External SM2 (2.035"-40) Threading
Application Idea
SM2NFM F-Mount Adapter Ring
Shown with Post, Base, Lens Tube,
F-Mount Lens and SM2RC Mount.
SM2NFM

Please Wait
Features
Female F-Mount Holds Nikon Lens
Male F-Mount Holds Nikon Camera
External SM2 (2.035"-40) Threading for Compatibility with Ø2" Lens Tubes and Components
Thorlabs' F-Mount Adapter Rings allow for easy integration of Nikon F-Mount lenses and cameras into experimental setups using Thorlabs' optomechanical components. Both adapters feature SM2 (2.035"-40) external threading on one side, and thus are directly compatible with Thorlabs' internally SM2-threaded components, such as our Ø2" lens tubes. Our SM2NFM Female F-Mount Adapter Ring is compatible with Nikon Ø35 mm lens assemblies. As seen in the photo and animation below, the SM2NFM2 Male F-Mount Adapter Ring is engraved with an alignment mark and attaches to F-Mount-compatible Nikon cameras. The quick connect/disconnect adapters securely hold an F-Mount-compatible lens or camera and lock in place with a spring-actuated lever.

Click to Enlarge
The SM2NFM2 easily secures a Ø2" lens tube and lens to a F-Mount-compatible Nikon camera. Lens and lens tube are sold separately. Nikon cameras are not available from Thorlabs.

This animation shows how the SM2NFM2 adapter is installed.