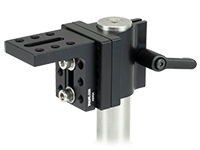 Click to Enlarge
Combine the C1011(/M) clamp with a
AB90A
(
/M
) bracket to create an adjustable platform for a Ø1" post.
Features
Mounting Clamps for Ø1" RS-Series Posts
Two Front Plate Sizes Available:


2.00" x 2.00" (50.8 mm x 50.8 mm) [Item # C1011(/M)]
3.50" x 3.50" (87.5 mm x 87.5 mm) [Item # C1045(/M)]

Front Plates Can Be Detached Using 9/64" (3 mm) Balldriver or Hex Key
1/4"-20 (M6 x 1.0) and 8-32 (M4 x 0.7) Tapped Mounting Holes
1/4" (M6) and #8 (M4) Counterbores
Quick-Release Handle for Easy Repositioning of Post Clamps
The C1011(/M) and C1045(/M) Ø1" (Ø25 mm) Post Mounting Clamps are an integral part of our Ø1" Post Assemblies, providing a rigid, general-purpose mounting surface. These mounting clamps can be used for fastening our wide array of optomechanical mounts in much the same way breadboards are commonly used.
The clamping mechanism is directly compatible with our Ø1" (Ø25 mm) RS-Series Posts. Vertical positioning is achieved by sliding the rear clamping mechanism along the length of the Ø1" (Ø25 mm) post. Once the desired vertical position is achieved, the clamping mechanism is actuated by turning the included quick-release handle. A ratchet-style mechanism allows the rotation of the handle to be adjusted without tightening or loosening the clamp: pull the handle outwards to disengage it and rotate it to a more convenient position. Quick-release handles are also offered separately below in case a replacement is needed.