Features
True Imaging Lens for Forming a Well-Corrected Infinity Optical System
Apochromatically Corrected for Lateral and Axial Chromatic Aberration Across the Field of View
Better Overall Aberration Correction than a Standard Achromat
The ITL200 is an infinity-corrected tube lens designed for use with our line of Nikon Plan Fluorite Dry, Oil Immersion, and Physiology objectives. The tube lens has an effective focal length of 200 mm and is ideal for applications such as imaging onto a CCD camera. The lens features an apochromatic design consisting of two doublet lenses to correct lateral and axial chromatic aberration across the entire field of view in the visible range. The lens will have better overall aberration correction than a standard achromat, especially off axis. The lens also has diffraction-limited performance to field number 25 for visible wavelengths. The lens is AR coated to improve performance for visible wavelengths; please see the Specs tab for a plot of the transmission. For those interested in building their own tube lens with a focal length of 180 mm, we also carry Ø2" AR-coated achromatic doublets, specifically AC508-180-A and AC508-180-A-ML.
An objective lens creates an image of an object at infinity; put another way, the objective forms parallel bundles of light rays for each position on the object.The tube lens is designed to refocus these parallel bundles onto the active area of a detector, as illustrated in the diagram to the right. In the diagram, the blue rays originate from the object on the optical axis, while the red rays originate off-axis. Since the rays from the objective are in parallel bundles, the tube lens can be located anywhere from 70 to 170 mm from the shoulder of the objective for best results. If the tube lens is closer than 70 mm, the image may suffer from aberrations, and if it is farther than 170 mm, the tube lens will be overfilled.
The ITL200 tube lens can also be paired with the CLS-SL Visible Scan Lens. In this configuration, the tube lens will relay the scan plane of a laser scanning imaging system to the back aperture of the imaging objective.
Mounting Options
The M38 x 0.5 external thread on the ITL200 can be easily converted to SM2 (2.035"-40) threading using the SM2A20 adapter, which enables the construction of an optical system consisting of a scan lens and a tube lens using Thorlabs' standard SM2 lens tube components. We also offer SM2-threaded adapters for common objective threads.
Alternatively, Thorlabs' WFA4110 Dovetail Adapter features a built-in ITL200 tube lens with a male D1N dovetail, making it compatible with our DIY Cerna systems. The WFA4110's external SM2 threads also make it compatible with SM2-threaded lens tubes.
Typical Application and Spacing of ITL200 Tube Lens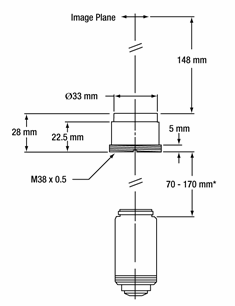 Click To Enlarge
*For Best Performance
Specifications
Effective Focal Length
200 mm
Working Distancea
148 mm
Optimal Distance Between Tube Lens and Objective
70 - 170 mm
Lens Design
Apochromatic
AR Coating
Visible Wavelengths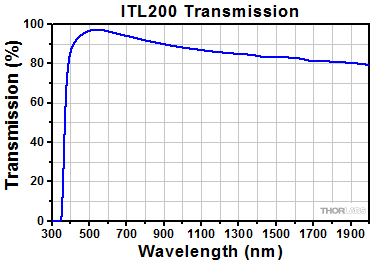 Click To Enlarge
To view an excel file that lists all of the measured transmission values for this tube filter, please click here.