Specifications
Item #
VAP4(/M)
VAP10(/M)
Travel Range
4" (101.6 mm)
10" (254 mm)
Adjustment per Revolution
0.05" (1.27 mm)
Load Capacity
50 lbs (23 kg)
Maximum Momenta
150 in-lbs (16.9 N•m)
Stabilityb
≤15 µrad Drift Over 6 Hours
Linearity
>90%
Weight
8.6 lbs (3.9 kg)
11.0 lbs (5.0 kg)
Features
4" (101.6 mm) or 10" (254 mm) of Vertical Travel
Maximum Moment of 150 in-lbs (16.9 N•m)
Quick-Release Button for Coarse Positioning
Quick-Release Locking Pin
C15QR Handles to Lock Stage Position
Thorlabs' Long Travel Vertical Translation Stages have been developed to accurately position optomechanical systems with moments as high as 150 in-lbs (16.9 N•m) at a recommended load of 50 lbs (23 kg). These stages are constructed using dynamically damped Ø1.5" posts to minimize mechanical vibration and ringing, making them ideal for alignment-sensitive applications.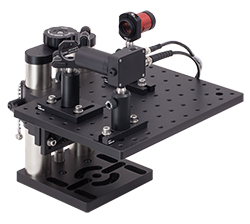 Click to Enlarge
VAP4 Stage Supporting an Aluminum Breadboard and an Optical System
The VAP4(/M) and VAP10(/M) Vertical Stages allow for 4" (101.6 mm) or 10" (254 mm) of translation, respectively. The fine adjustment knob on the top of each stage can be actuated by hand or with a 3/16" (5 mm) hex key or balldriver to achieve a motion of 0.05" (1.27 mm) per revolution. The torque required to actuate the fine adjustment knob increases with the load on the stage. For coarse adjustment over a long travel range, the stage features a quick-release button. Holding down the button disengages the stage from the lead screw and allows the position of the mounting plate to be adjusted by hand.
A pin attached to the back of the stage by a ball chain can be placed in a quick-release lock to prevent the use of the coarse adjustment feature. We recommend keeping this locking pin engaged at all times except for when using the coarse adjustment. Both the quick-release button and the locking pin can be seen in the image above. Two bumpers on the base plate of the stage help to minimize damage if the mounting platform is dropped during coarse adjustment with the quick-release mechanism. Once the required stage height has been set, two included C15QR handles can be used to lock the post clamps holding the mounting plate for extra stability.
The translating vertical 3" x 6" (76.2 mm x 152.4 mm) mounting plate has an array of thirty-three 1/4"-20 (M6) and thirty-one 8-32 (M4) tapped holes. An Aluminum Breadboard can be attached to this plate using 90° mounting adapters (such as the AP90 or AB90), as shown in the photo to the left. The base plate of the stage features six linear counterbored slots and one counterbored hole for 1/4" (M6) mounting hardware. In addition, two counterbored 1/4" (M6) slots on a Ø2.00" (50 mm) circle are provided for rotational positioning. For other high load vertical translation applications, we also offer a selection of Lab Jacks.